Fall 2023 Wedding Color Palette Trends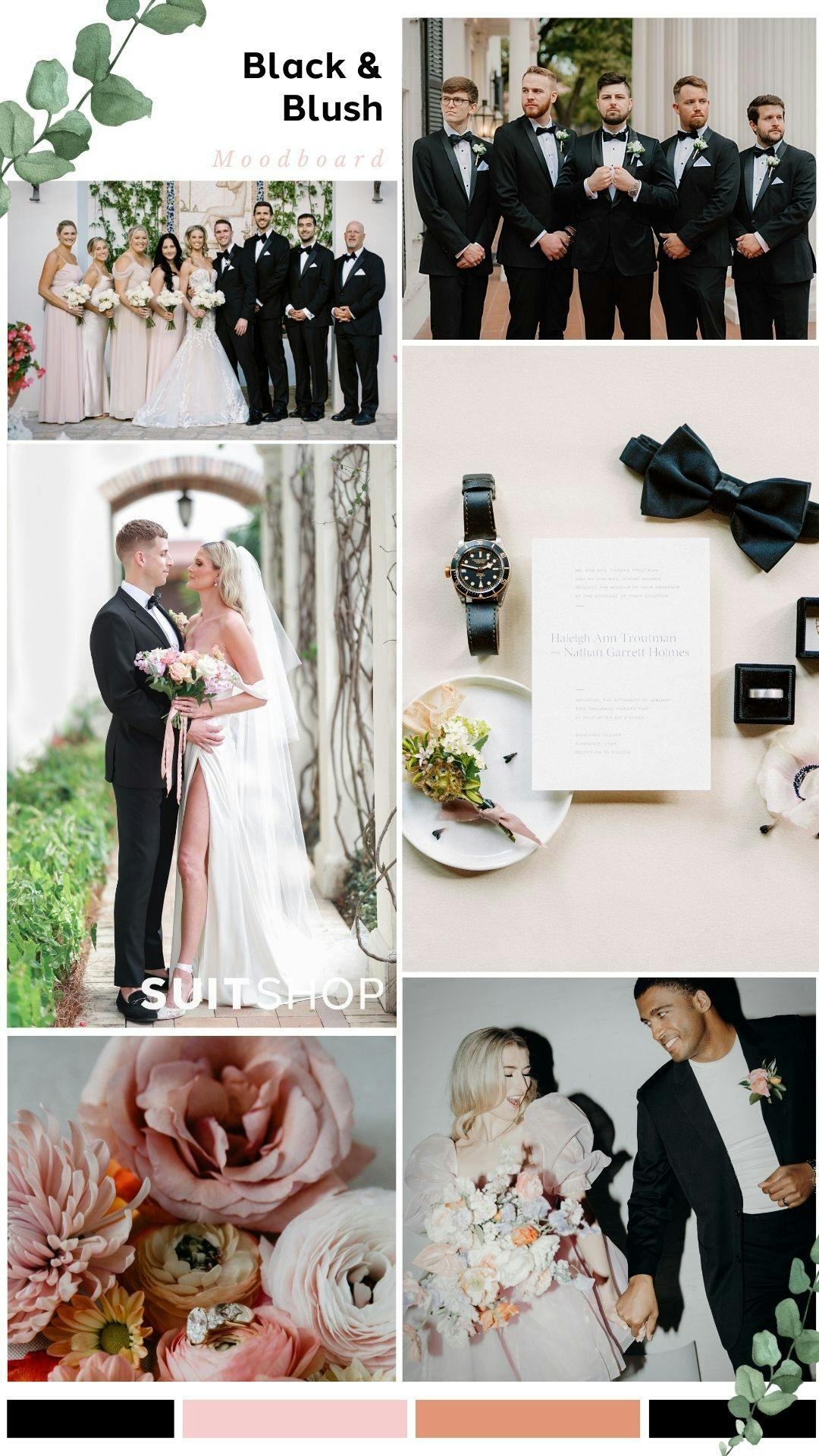 The summer heat is high, but falling leaves, back-to-school season, and cool fall breezes are just around the corner. While tan and sage have carried us through the warm season, there's a whole new set of of shades that will get attention this fall, from big wedding color trends to more under-the-radar and unique wedding color options. These color palettes will get you prepped with all the fall wedding season ideas. 
Mustard + Brown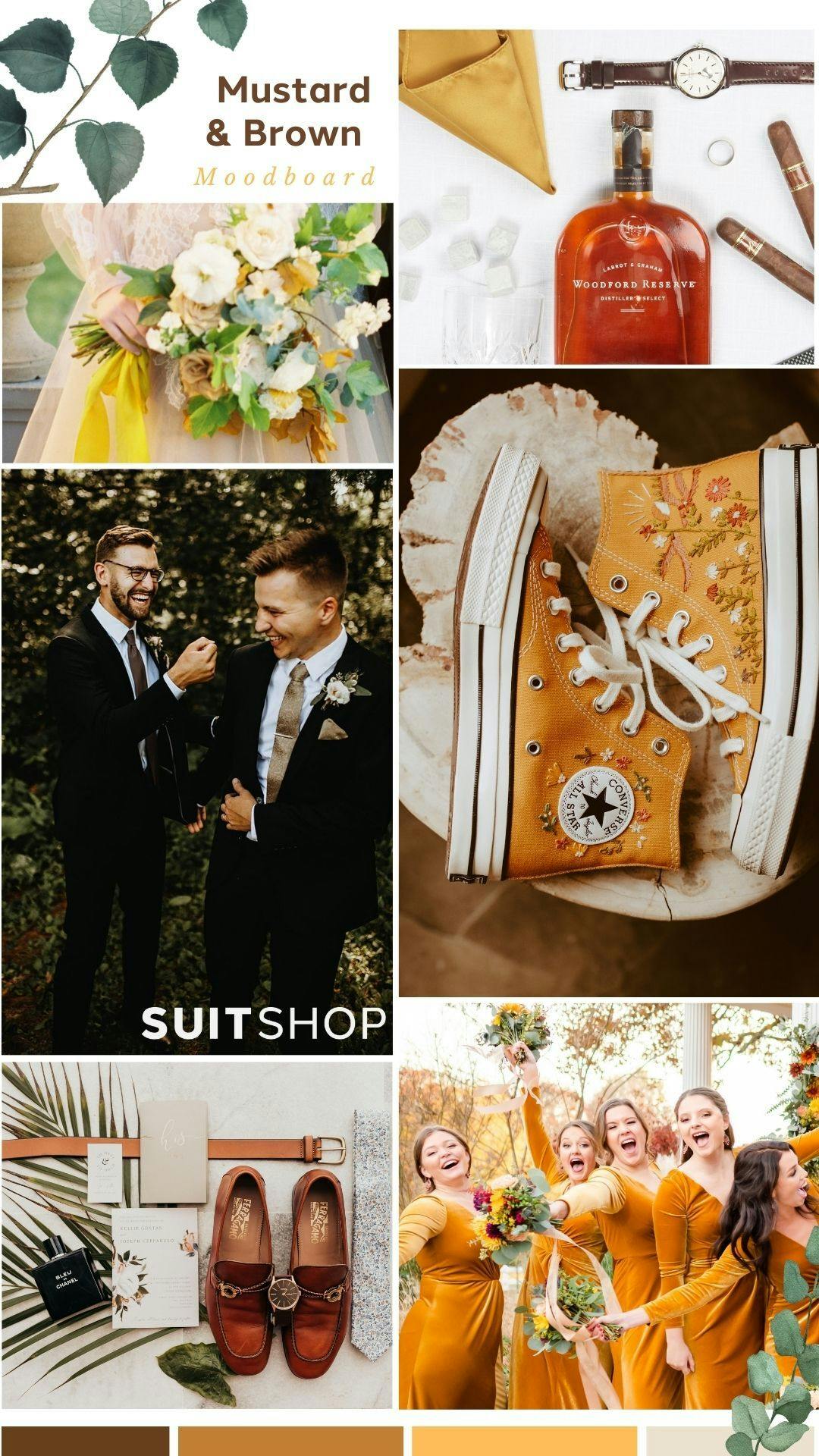 Pumpkin pie, pumpkin spice, cinnamon, and nutmeg; just thinking of these scents immediately transports us to fall. And, these classic fall vibes can be the beginning of a perfect color scheme for an autumn wedding. Pairing brown suits, ties, or vests in contrast with mustard bridesmaids dresses is a bold fall look that blends beautifully into the backdrop of the changing leaves while standing out from the crowd. For a moodier look, we love black suits and mocha bridesmaids dresses with pops of yellow and orange dahlias in the bouquets and flower arrangements. 
Rust + Hunter Green
You'll never go wrong with shades of hunter, emerald, or olive green for a fall wedding. We love the pairing of SuitShop's Dark Green Suit and Copper Slim Tie for a wedding party in coordination with terracotta or rust bridesmaids dresses. While the palette is bold, the colors are timeless and so in tune with the changing leaves. 
Dark Teal + Wine 
Deep, saturated cabernet in the attire, flower arrangements, and signature sangria are winning ingredients in the recipe for the perfect romantic wedding. And, Dark Teal is a great, modern color complement. It's just the right pair for a moody fall wedding colors. Jewel tones are always a fall favorite, but these colors pack a little more of a punch. These colors play well with gold accessories and bold flowers like purple chrysanthemums. 
Dusty Blue + Blush
For the rustic and destination weddings this fall, dusty blue and blush are a tried and true pairing that is never a miss. For this color combination, we love bold floral ties that bring in deep fall colors like navy or burgundy and soft floral ties that bend toward monochromatic. 
Blush + Black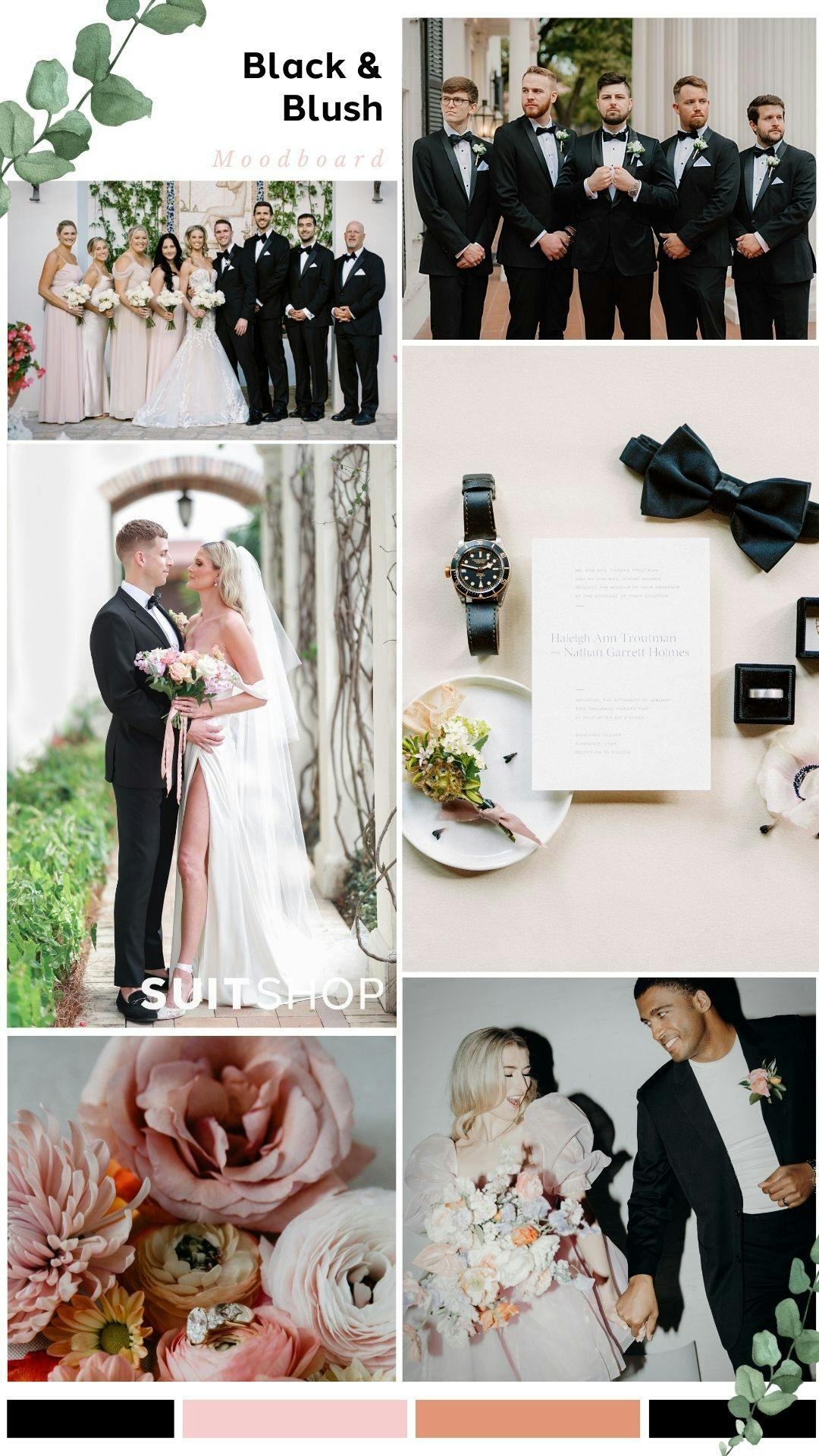 Romance to the max. Blush and black may be our favorite color pairing for fall 2023 weddings. It's equal parts classic and different, which makes it so special. When it comes to black, we recommend a tuxedo with all the traditional accessories. Looking for a way for your groom to stand out from the rest of the group? Dress the groom in a tuxedo with satin lapels and patent leather shoes, then pick a black suit with black oxfords for the groomsmen. The wedding party looks cohesive but the spotlight shines on the groom. This is a look the groomsmen and wedding party are guaranteed to be able to wear over and over again, getting the most out of owning their groomsman suit rather than renting. 
Is there a color you're searching for in a suit but are having a hard time finding? Let us know at info@suitshop.com; we may be able to create it for you!