Made You Blush: Suit Colors to Pair with Blush Wedding Gowns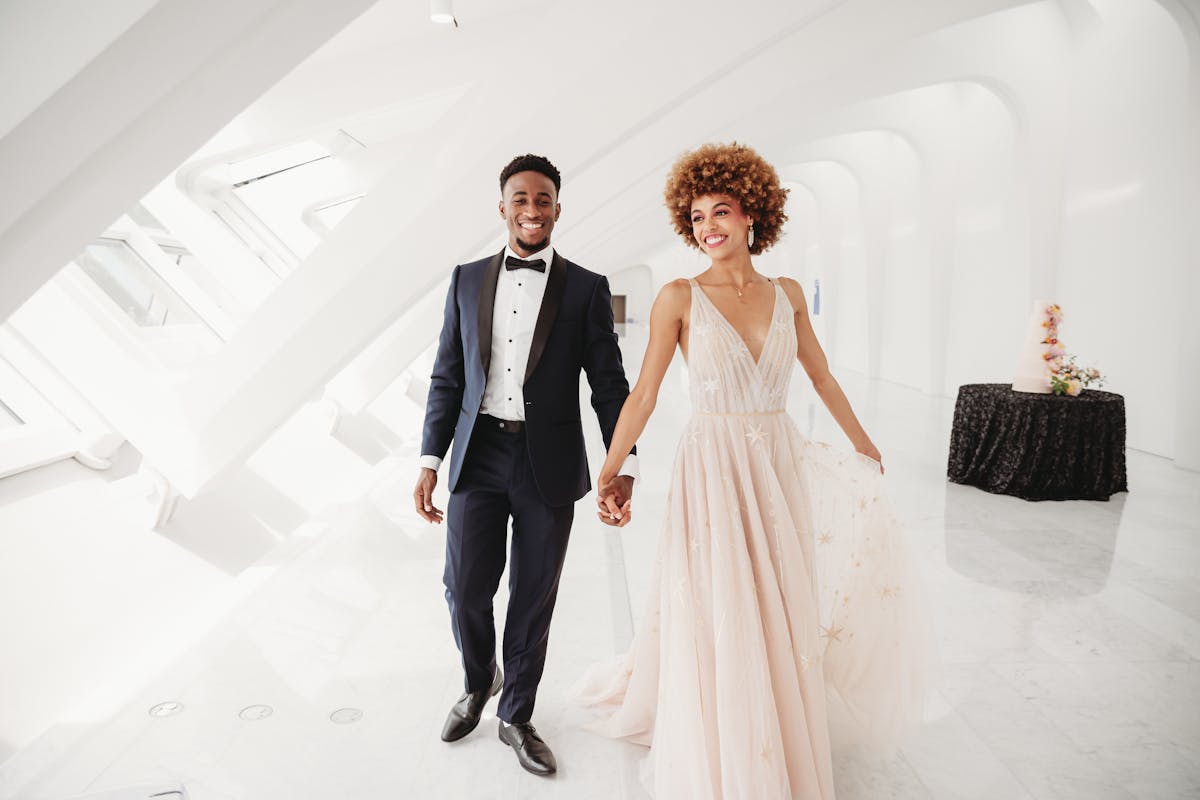 Blushing brides, grooms, and marriers, now's your moment. Pastel pops and based-on-ballet shades and silhouettes have been taking over recent bridal runways, especially with beloved brands like Allison Webb and Lazaro. Noted as a top wedding trend and included in best wedding gown roundups by The Knot, Town + Country, Martha Stewart Weddings, Harper's Bazaar, Cosmopolitan, Pinterest, and more, blush wedding dresses are a perfect way to go beyond the expected and show your style and personality on your wedding day.
Give your wedding plans a modern update with a subtle break in tradition. Dusty rose, ballet pink, and true blush wedding dresses lend a novel and personal touch without leaving the realm of timelessness. Use blush as a new nearly-neutral or go bold with it—there's no one right way to bring on the blush.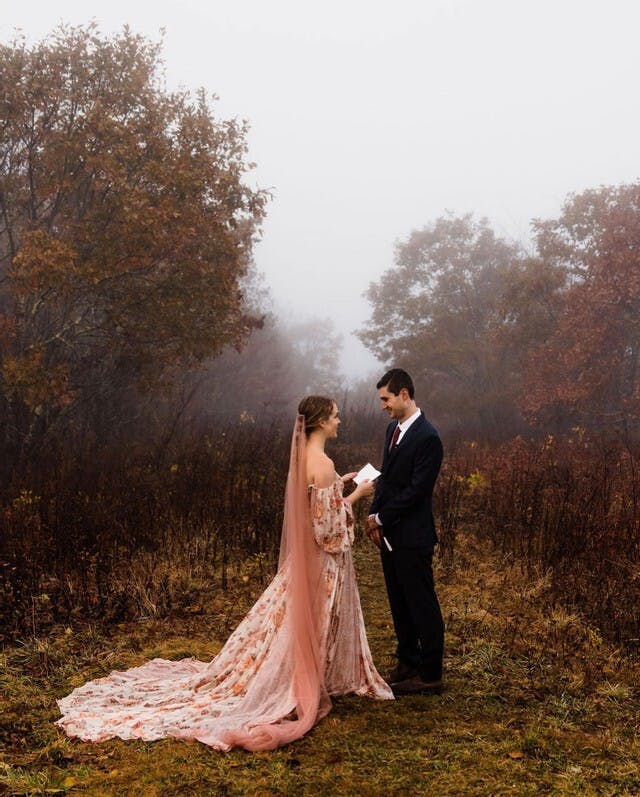 How, then, do you build out the rest of your wedding day look? It starts with the suit—which, to be fair, we think is the case for most situations, but it rings especially true in color pairing your blush wedding gown with a suit shade. Selecting your shade—along with choosing your accessories, venue, décor, and even simply following your personal style—will help define which direction you're taking your wedding look as a whole. The dress-and-suit color combination will take center stage at your wedding and will thus set the tone for the mood and aesthetic the rest of your event carries.
So what color suit goes best with blush? We've outlined some no-fail pairings depending on the look and atmosphere you're after. Explore your wedding day style and find what's best for you.
Bright Pops
Lean into the color of it all for your wedding day and match your blush pink wedding dress with another flash of fun—teal. Opting for a deeper shade will take your pink-and-teal from shocking and loud to bold and beautiful. Both blush and teal are just different enough from standard wedding choices (white and navy or blue) that they add some major excitement without coming across as too bizarre. Color is trending hard in 2022, and it's because it's joyful. Let's embrace it. Goodbye pandemic blues and hello to all things vivid and lively.
Romantic
Make it match with a burgundy suit. Rosy hues carry through both the gown and the suit with this combo, and the effect is modern and dreamy. Monochrome outfits and pairings are living at the height of fashion trends in 2022, but this look has serious staying power, too. Wearing burgundy or maroon alongside blush puts the emphasis on love (and some elevated fashion, too), which is what you're celebrating in the first place.
New Neutrals
Make way, make way, the new neutrals have arrived. Blushes and blues simply turn up the saturation on tried-and-true neutral staples white and navy. Pairing them together, when done tastefully, feels as natural as the old fallback classics themselves. Brilliant blue or light blue and blush pink come together to create a beautiful palette: think idyllic sunset, not cotton candy. For a more formal affair, pick something closer to a deep royal blue, while slightly more relaxed events might prefer more airy, lighter blues.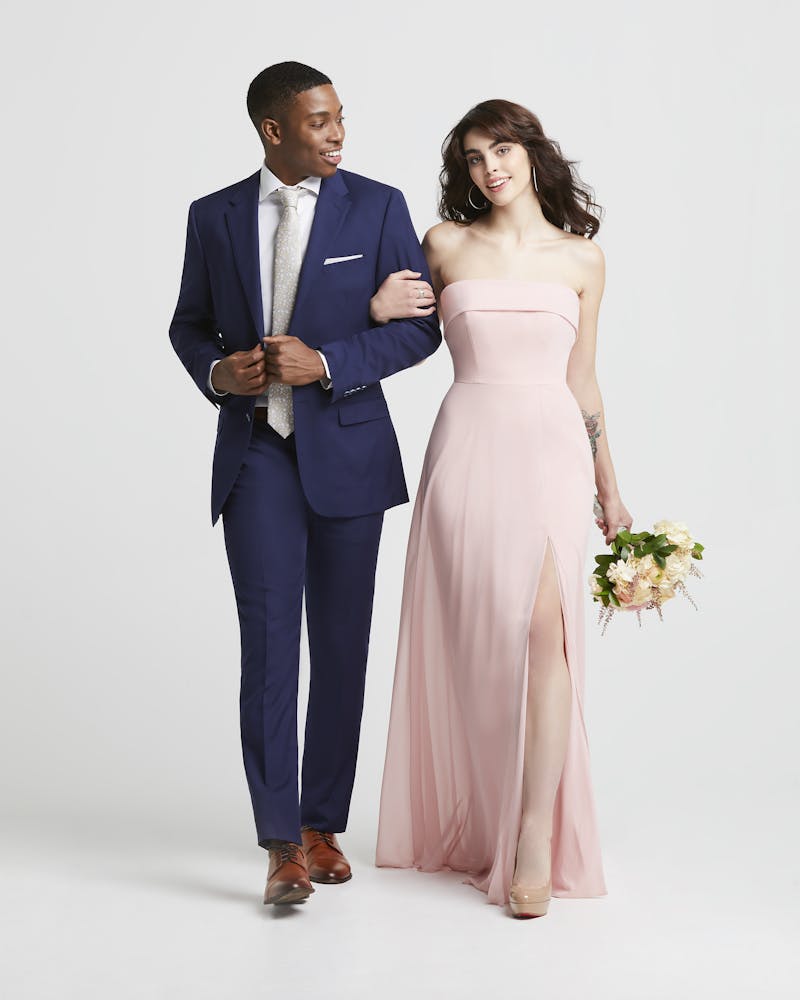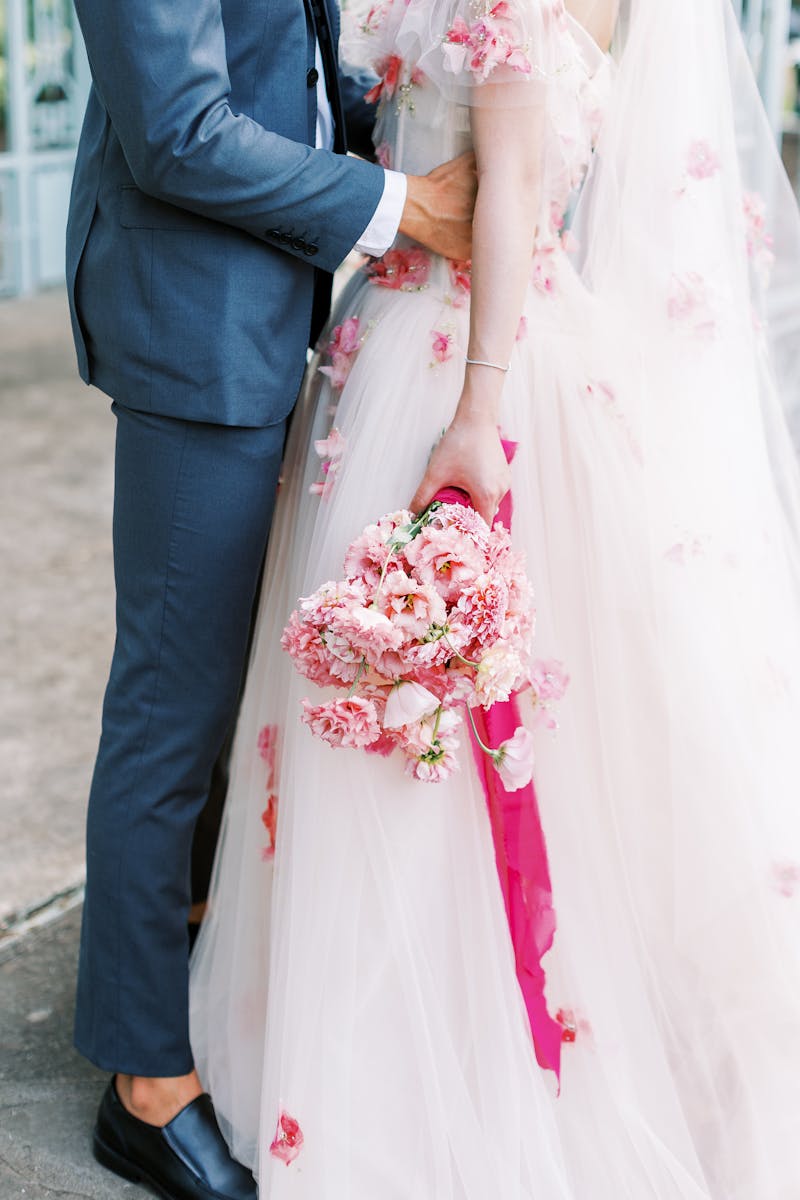 Refined Cool
Mixing in a cool tone with gray can take your pink wedding look in a moody, sometimes ethereal direction. The timeless, classic nature of grays keeps your aesthetic sleek and safe. The not-quite-black of a charcoal gray adds dimension and keeps the ensemble from feeling expected. Lighter grays add in an extra bit of unexpected chill with their visibly cooler tone and more noticeable texture.
Fresh Take
Flip the script and make white a statement. A white tuxedo fits perfectly with a blush dress and keeps the white in your wedding day in a surprising way. The pairing is suave yet relaxed and easy on the eyes. Take this seemingly simple but truly special approach to land a high fashion feel.
Want to ditch the dress altogether? You can still bring in the blush for your big day; we can create a made-for-you blush tuxedo. Reach out to chat special orders! Whatever direction you take—gown, suit, tux, or something else entirely—we have the perfect suit shade to pair.