Grey Suit, Brown Shoes: What Goes With What?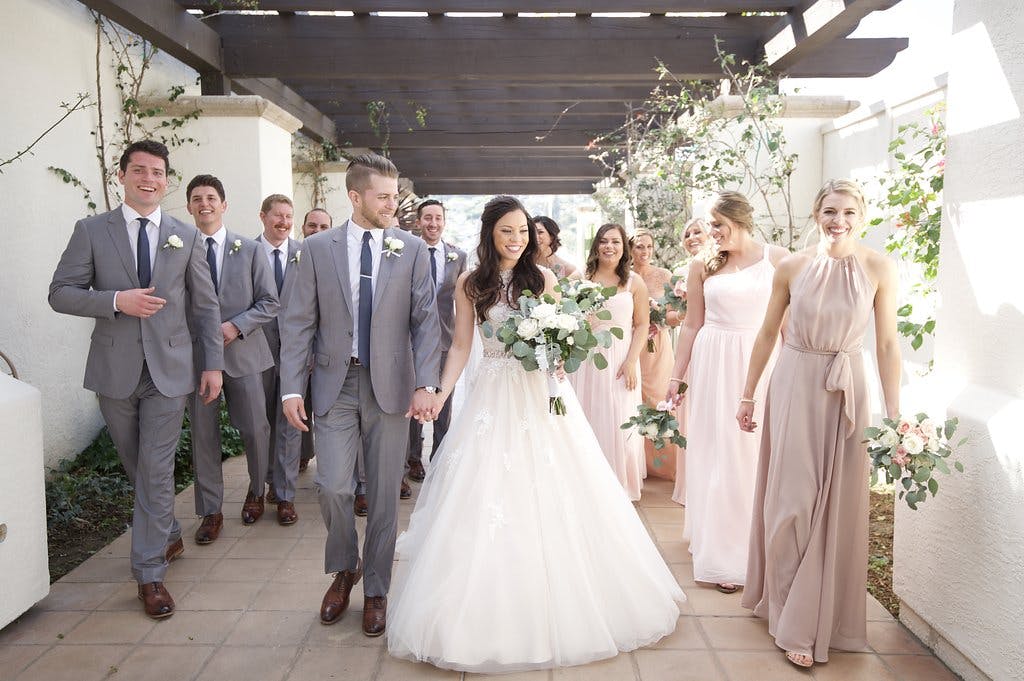 There is so much versatility in purchasing a grey suit.  A classic grey suit is perfect for not only weddings but essentially every formal occasion you can imagine – with exception to those extra formal, black-tie, events where you should probably wear a tuxedo.  Think of a grey suit as a workhorse investment and wardrobe essential that will carry you through many stylish moments.
One style stumper that often arises is the debate on whether to wear black or brown shoes with grey suits.  Well, the answer to this question is that both are actually good options!  One thing to consider is the level of formality of your wedding (or the wedding you will be attending) and other details that may have you lean one way or the other in terms of brown versus black. For more urban, evening weddings or events, pairing black or dark brown shoes with your grey suit would be the better choice as it is a bit more formal. Lighter shades of brown tend to fit more casual, daytime affairs or events with an outdoor component like a barn wedding or a country club setting.
Once you settle on brown, where do you go from there? Unlike selecting black shoes, once you have decided on brown for your look you still have to decide which brown.  Will it be tan, cognac, or chocolate brown?  Below we will explore the many stylish ways to wear brown shoes with gray suits and provide some style suggestions based on different shades of gray suiting. 
Light Grey
Arguably one of the most versatile suits in men's fashion, a light grey suit is an evergreen choice that can be worn in all seasons and most climates.  Most often this color is popular for weddings in the spring, summer and fall and complement the colors of natural surroundings well for outdoor weddings.  For a rustic outdoor wedding – think barn or farm weddings, try pairing your light gray suit with a lighter brown shoe like tan, cognac or butterscotch.  A shoe, like our Theo Tan Shoe will really help to anchor your look and play off of the other elements of the locale like wood beams, hay bushels or barrels.  Choosing a complementary tie and pocket square will really help to pull it all together as well. 
Medium Grey
A medium grey suit is another great option for the wedding day and will be a pivotal part of your wardrobe for a long time.  As it relates to shoe pairings, there are really no wrong choices here because the color of the suit is in the middle, not too light and not too dark, so you can go either way with your shoe choice—lighter or darker.   Most brown shoes—ranging from toffee to dark chocolate—will look good with this shade of gray especially for a wedding that may be more formal than a rustic outdoor wedding discussed above.  Our Frankie Brown Oxford Shoes was designed to be the perfect medium shade of brown to pair well with a variety of grey suit shades. When we think of medium grey suiting, we tend to think of preppy and ivy league affairs.  Maybe your wedding will take place at a country club, yacht club or university club.  Complement your dark chocolate or toffee brown shoe selection by selecting a repp tie with navy and hunter green stripes (or another color combination in keeping with the wedding colors) and a solid white cotton pocket square.  A styling hack is to consider the fabric of the suit.  Every shade of grey has a bit of a texture in the fabric so take cues from the intricacies and details therein when selecting your shoes.
Charcoal Grey
A charcoal grey suit is the best of the best for semi-formal to formal wedding that are not tuxedo affairs.  The elegance of the dark, rich tone of a charcoal suit can be styled with the darkest shades of brown shoes.   A good thing to consider when selecting what shade or gradient of dark brown is by looking at the color of the suit buttons. Likely, the buttons will be horn or the same smoky tone of the suit which will be complemented nicely by a great burnished brown or dark mahogany shoe option! 
Needless to say, there are plethora of brown shoe choices that can be paired with your preferred shade of grey suiting.  What goes with what?  Well, that is really is up you! The options are vast but here is a recap of some points to consider when selecting a brown shoe to wear with your grey suit of any shade. 
Let's review:
Know the level of formality of the wedding. Make sure the shoe choice is appropriate for the venue, time of day, and style or theme of the wedding.
Take cues from the suit. Take a close look at the fabric and perhaps the fibers and textures will help lead the way. 
Choose a complementary tie and pocket square. Every style guy knows that a good tie can pull together an entire look.  And equally, a bad tie can bring down a look. Choose a tie and pocket square combo that complements the shoe choice to make the footwear a feature of the overall look.
Take cues from button details. Especially with charcoal suits, a darker fudge shoe will likely work better than any of the aforementioned options.
And for extra credit, if you plan to wear socks, try finding brown socks that are similar in color to your shoe of choice.  By doing so, you'll elevate the look exponentially.  Also, to maintain consistency among your groomsmen consider sending them links to the shoes and belts you would like them to purchase or gift them as a 'thank you' for being in your wedding. The key to great style is in the details!
If you are in search for fantastic grey suit options, consider our Textured Grey Suit from our classic collection of suiting and our Charcoal Grey Collection that launched this year! Do you have the same black vs. brown shoe dilemma when wearing a navy suit? Check out our shoe guide for navy suits.