Groom & Groom Black-Tie Wedding Style?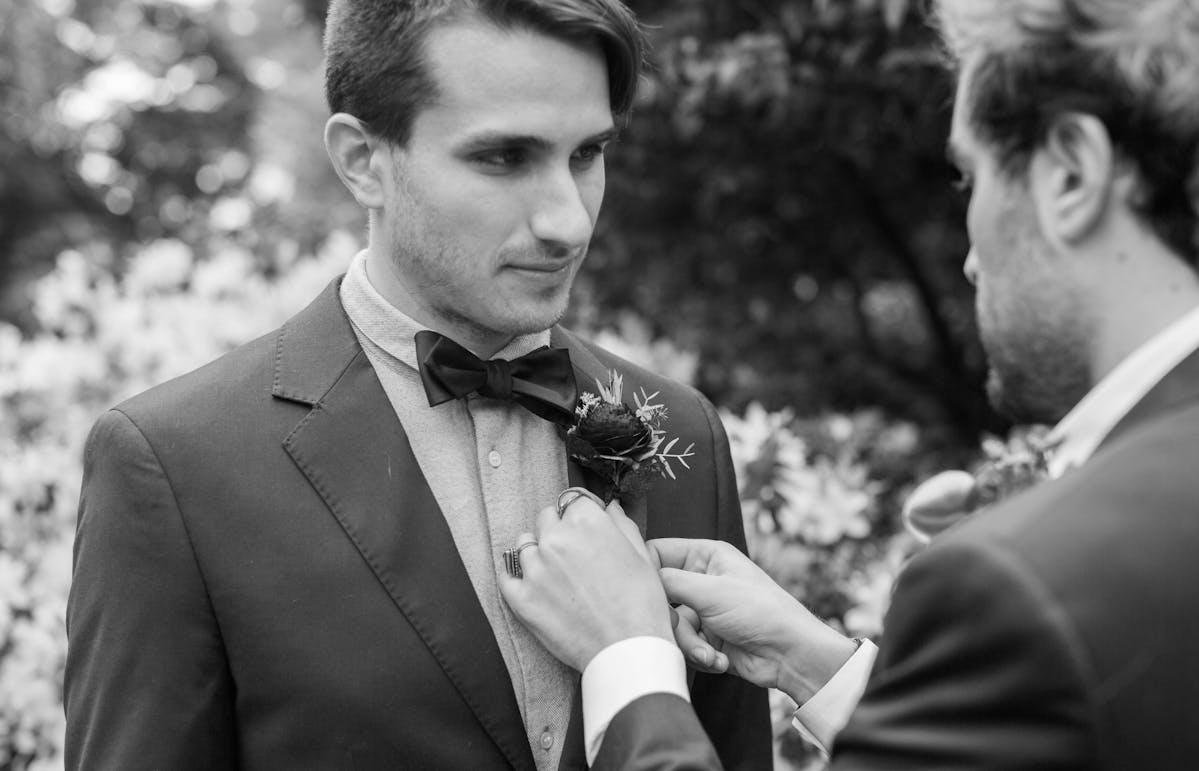 Question:  
Hello SuitShop! I am a groom and my wedding to my partner is planned for this New Year's Eve at a rooftop restaurant in NYC.  The event is planned as a black-tie affair but he and I both want to wear something other than black tuxedos as it is likely that the majority of our male guests will wear black tuxedos.  My partner is more classic when it comes to dressing and I am more of a fashion risk taker! We don't have wedding colors necessarily but will be accenting the space with white flowers, white candles, and lots of mercury glass.  Any suggestions?

Answer:  
Thank you for writing and congratulations on your engagement! A New Year's Eve wedding, how exciting! For groom and groom weddings, there are a lot of good options, especially for formal weddings.  You are not obligated to both wear the same tuxedo, unless you want to.  In fact, we recommend that you both choose looks that are representative of your individual styles and personalities.  In lieu of standard black tuxedos, you can both opt for dinner jackets styled with black tuxedo trousers which is completely acceptable dress for the men of the hour at a black-tie wedding. Since your wedding will take place during the winter holidays in NYC it would be nice to bring some of the colors and textures of the season into the styling of your looks.  If you are more the risk-taking type as it relates to fashion, consider wearing velvet or brocade dinner jacket.  You could opt for a silver and blue brocade jacket or even a metallic gold and silver floral brocade dinner jacket.  With the first brocade option, your partner could wear a full navy blue tuxedo since he is more classic in dress or for the second option, he could wear a white dinner jacket paired with black tuxedo trousers.  As with all suiting, fit is key so make sure both of your looks have been tailored by a professional to ensure that you both look amazing! And since it is a black-tie affair, opt for black or possibly subtly patterned self-tie bow ties.  Skip the neckties for this occasion! Best wishes for a happy wedding and lifetime of love!