How Long Should My Suit Sleeves Be?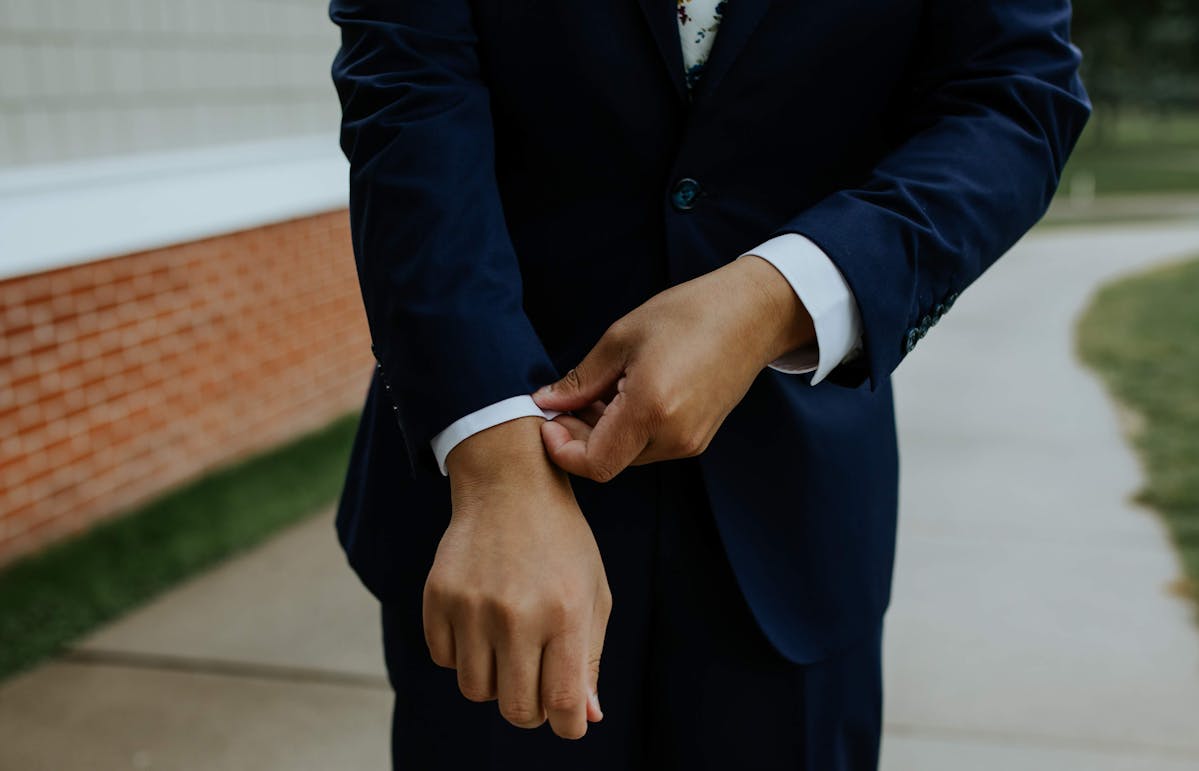 Question: 
Hi SuitShop Team, I got my suit in the mail and it fits great but I think the jacket sleeves are too short. I'm not sure how it is supposed to fit do you have a guide for how long they should be?

Answer:
Great Question! Certain menswear questions pop up more often than others, and one of the most common we get is about jacket sleeve lengths.
I chuckle when I see guys in the store or fit a G ALXNDR client, and watch them try the jacket on, lift their arms like they're performing the "Macarena", and ask if the sleeves are too short. With dancing in mind, let's get into some "rules" on what makes jacket sleeves the proper length.

Generally speaking, you want to aim for ½-inch of your shirt cuff to be seen under the jacket sleeve when your arms are resting at your side. If you forget everything else I mention, you can fall back on ½-inch.

Yes, when you raise your arms for "YMCA" or even to shake someone's hand, your sleeve will ride up and appear too short for the moment. If that was your natural state, we'd have a different conversation. Since it's not, proper sleeve length is based off your arms resting at your side.

Preference also plays a role in the sleeve length that's right for you. I like showing ⅝-inch to ¾-inch, while many of our older, more conservative clients prefer ¼-inch. I wear jewelry and cuff links regularly, and I like to make sure the jacket sleeves don't go over all my bracelets (there are a lot of 'em).

If you're wearing a tuxedo and prefer slightly shorter jacket sleeves so your cufflinks can peek out, go for it! I do that on my formal wear, as well as my clients. There's something elegant to it.

Preference does not outrank what is proper though. You should never be able to see the entire shirt cuff, or even most of it. If you see the seam between the shirt cuff and sleeve, your jacket sleeves are too short. If you cannot see any shirt cuff, your jacket sleeves are too long.

Some menswear associates will ask you your height and base the sleeve length on that. While height does typically correlate to arm length, do not just go by height! One of my tallest clients at 6'11" had the arm length of many of my clients around 6', and one of my shortest clients that was 5'5", had almost the same arm length as the former client. 

Buy the jacket in the proper chest size, and choose S/R/L based on the fit of the body and length of the jacket as a whole (think right around where your fingers meet your palm or just past your knuckles). Do not buy the jacket based on the sleeve length. Adjusting the sleeves is an easy alteration for a tailor to make, so bring the jacket to one and tell them you'd like to show ½-inch of cuff (or whatever your preference is). For more tips on altering your suit jacket check out the guide here. 

This may seem obvious, but if you're unsure on the sleeve length, ask a professional. You can email us photos (that someone else has taken of you) to info@thegroomsmansuit.com and we are happy to take a look and let you know what we think. Or, keep the tags on and take the jacket in to your local tailor for their opinion. As long as an item is unworn and unaltered we are happy to process a free exchange.