How To Take Care Of Your Suit And Make It Last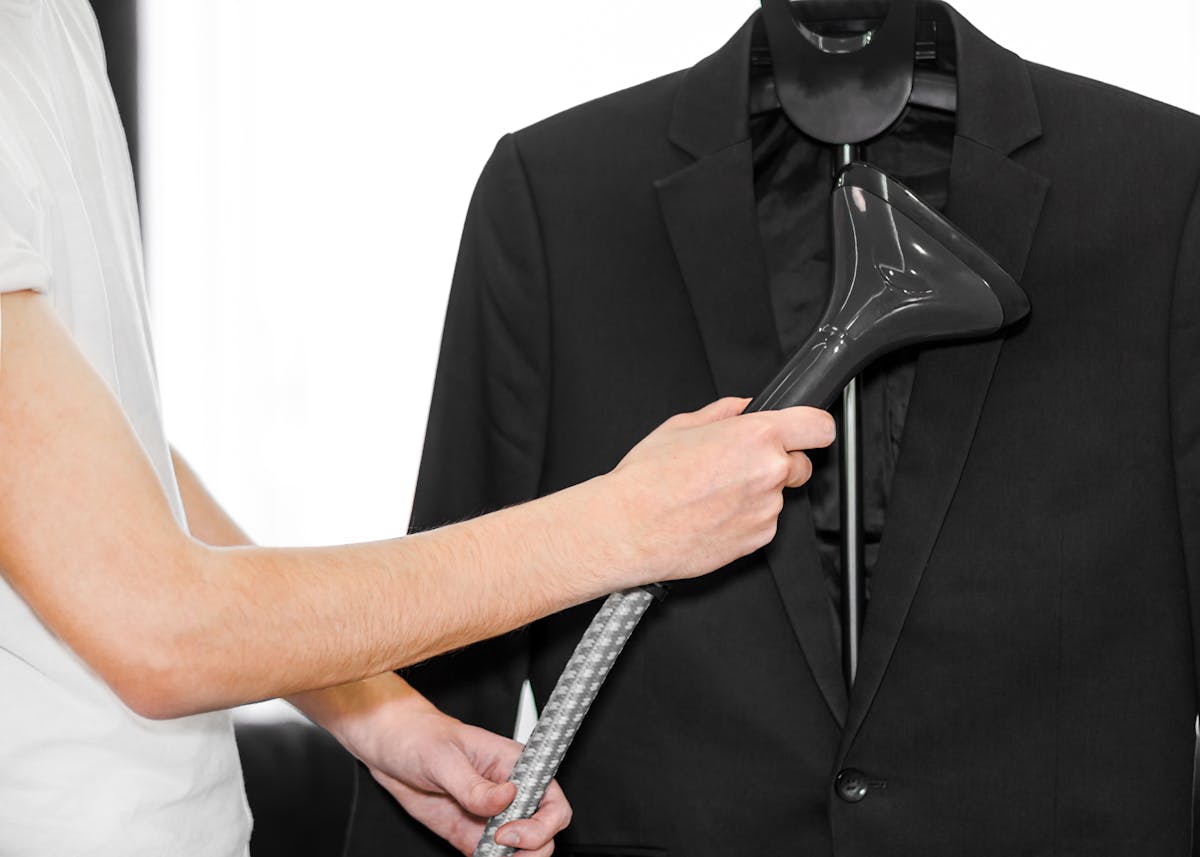 You just purchased your new suit & you are receiving so many compliments. You feel like a million bucks, and you look like it too. This is what I like to call a "suiting epiphany:" when you realize the power of a nice suit and you can't wait to wear it again. There will come a day when you spill some coffee or food on your suit and you feel it will never be the same. Not to worry, when you know how to take care of your suit properly, you can not only keep it looking clean but you can extend its wearability for a long time. It's one of the many perks of owning your suit vs renting one. 
Let's go over some tips on how to take care of your suit:
DO NOT OVER DRY CLEAN YOUR SUIT
At the beginning of my suiting journey, I learned the hard way about over dry cleaning my suits. My tailor taught me these three stain remover tips for my suits and it's honestly the best advice I have received. It has saved me a ton on dry-cleaning bills and has extended the longevity of my suiting. 
1. Check the Care Label
Different suits are made with different fabrics and techniques, so recommended cleaning methods will vary. You can find out the ideal cleaning method for your suit jacket by checking the care label.
2. Vinegar or Lemon Juice
You can't go wrong when using vinegar or lemon juice to remove stains on a suit jacket. Because of their acidic properties, these substances are highly effective at removing most stains. As an added benefit, the acidic properties of vinegar and lemon juice will kill germs while leaving your jacket nice and clean afterward. Make sure not to go overboard on the application.
3. Test Stain-Removing Products in a Discrete Area
Depending on what caused the stain on your suit jacket, you may have to use a stronger cleaning agent like Tide To Go Instant Stain Remover. If your suit jacket has a big stain on the front, test the stain-removing product on the interior before using it on the front. Make sure you gently pat the area and do not wipe the stain vigorously. 
USE A WIDE HANGER
After each wear hang-up your suit on a cedar wooden hanger in your closet & use a garment bag to store it in. Luckily for you, your SuitShop suit comes with its own bag. And, you can purchase Superior Natural Wooden Hangers from The Container Store for just $11.99 each. Before hanging your suit in your closet, you can lightly brush your suit with a soft bristle fabric brush & use a lint roller to remove any small debris from a day's wear. Before each wear, use a steamer, NOT AN IRON, to press your suit. 
Using a wide hanger is important because you want to support the shoulders of your jacket. A suit jacket's shoulders are the most important and constructed part of the garment. During the day, try to avoid handing your jacket on the back of your chair. Nothing misshapes a jacket more than this habit. Instead, fold your jacket in half by the shoulders and then place it over your chair.
TAKE CARE WHEN TRAVELING 
When traveling, I always pack my suit in a garment bag and stow it in the overhead compartment when I fly. You can pop the shoulders inside out, fold the jacket in half such that the lapels line up, then softly fold the coat either two or three times. Place on top of your other luggage, and without any excessive compression. If this won't be an option or you'll need to pack your suit in your suit case, check out our guide here. When you arrive at your final destination, the first thing you should do is to take out your suit and hang it up, even if you don't unpack anything else make it a priority to hang your suit.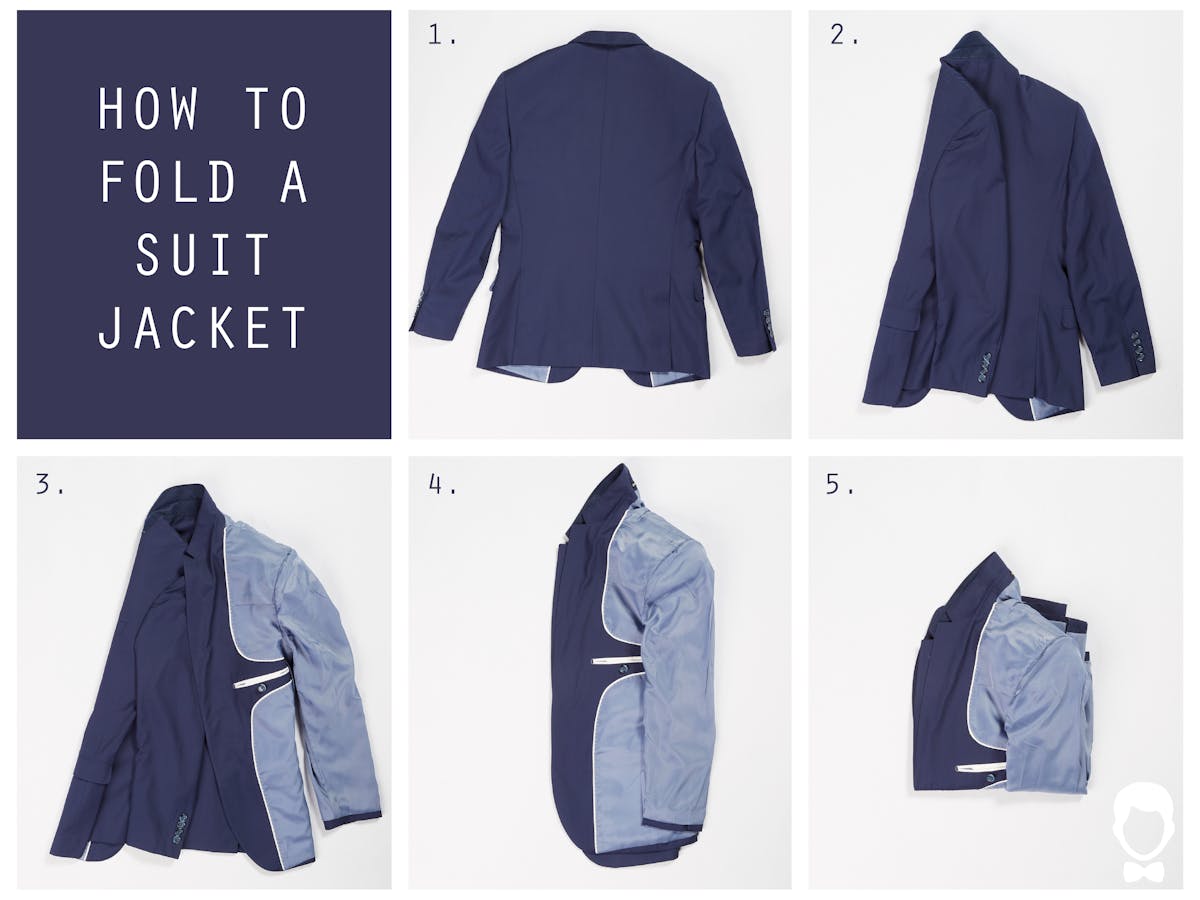 What if you don't have a steamer? When traveling with your suit, don't always expect your hotel or resort to have a steamer. Below are a few tips if you find yourself with a wrinkled suit and no steamer:
Call your hotel ahead of time and ask if there are steamers available in your room or at the hotel. 
Hang your suit in the bathroom and turn the shower on extra hot. The steam from the shower helps to smooth out wrinkles, leaving your suit looking clean and wrinkle-free. This method works best when you take long, hot showers, as heat translates into steam. A good 5-10 minute steam will do the trick. 
You can use wrinkle eliminating sprays. Or, grab a clean spray bottle, fill it with water, and lightly spritz the jacket—you don't want to saturate it, so be sure to keep the bottle at least six inches away from the fabric, which will allow you to mist the fibers without soaking them—before using your hands to smooth out wrinkles. As the jacket dries, more of the wrinkles will ease out. 
For many men and women, a suit is an important purchase and you should want to take care of it. The last tip and one I think is most important is to let your suit "air out". Suits are often made of fabrics that don't tend to collect oddors easily.
Use these tips above and you will be able to keep your suit for a long time. Check out our tips for how to rewear your suit after the wedding day. And, let us know if you have any questions about suiting care!