Men's Wedding Attire: A complete review of the best tuxedo brands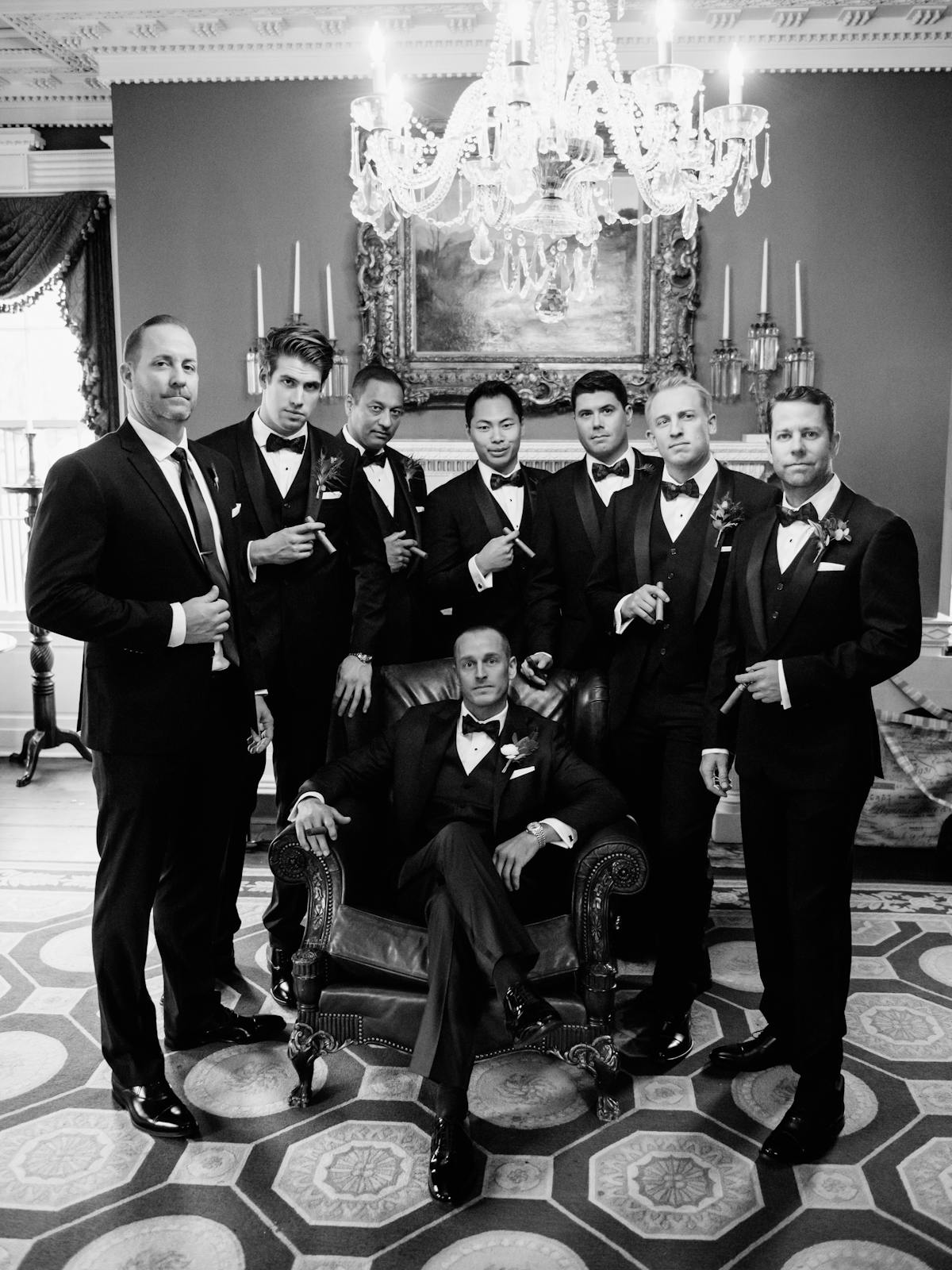 Written by recent groom, Terry Schilling.
Need to rent a tuxedo or suit for your wedding day?
Here is the ultimate guide comparing the best online tuxedo and suiting companies.
For every groom, wedding planning has its shares of ups and downs. Having been a groom recently, I know first-hand what the process of coordinating attire for groomsmen is all about. Because it was with my friends, selecting groomsmen suits was one of the planning elements I was most looking forward to and wanted to enjoy. Instead, my experience of finding the right items, making sure they were available and affordable, and facilitating the purchasing process with my groomsmen was daunting and stressful. Fortunately, everything worked out perfectly for me. Looking back on it all now, I can say that the key to avoiding stress and hassle in getting your wedding party suited up is finding the right suiting and tuxedo company.
Thankfully, the internet has made finding the perfect suit or tuxedo for your wedding much easier. That's right grooms, you'll be happy to know that there are a lot of online tuxedo and suiting companies that make picking a look, coordinating with groomsmen, and delivery/return very easy. Gone are the days of spending hours at the store trying on jackets and having a cheesy salesman trying to make you buy the most expensive one. Ecommerce has reduced the barrier to entry for newer, younger brands allowing them to offer high quality products for a fraction of what you would spend in a store. Why spend $400-500 when you can get an equally great tuxedo or suit for $200, right?
All these options, however, does not mean that the process is guaranteed to be stress free and not all are equally convenient or affordable which is why I decided to compare four of the biggest players when it comes to suiting and tuxedo rentals. I put on my investigative journalist "suit" on and ordered a tuxedo or suit from Menguin, The Black Tux, Men's Wearhouse, and The Groomsman Suit and rated them based on the following categories:
Online ordering process
Service
Packaging
Quality and fit
Value
Before I dive in, I want to go over a few quick details to even the playing field when comparing the service of all four companies. First, I chose the same event date of January 28th, 2018 and everything was ordered two weeks before this date. This would help compare delivery times, customer service, and return instructions. With each company, I provided the same measurement details to see how their fitting tools compared. I also want to point out that my goal was to nail the fit on the first try with all of these brands and did not have any plans to request an exchange. Okay, who's ready to hear what happened?
Let's begin with Menguin.
Online Ordering Process - It took me about 15 minutes to go through their wedding suit rental process. It starts with choosing your look and their collection was very strong. They offer lot of different styles and color choices with each tuxedo or suit named after a location. I went with "The Chicago" suit because that's where I'm from and it looked really nice. They do have a Try For Free option which is great if you want to see the quality and fit before making a purchase. The only catch is that you have to be an actual groom and the event must be 60 days out. Thinking back to my wedding planning experience, I wanted to see suiting options in person before asking my guys to buy but waiting until two months before my big day to finalize suiting would never have been okay with my bride.
After you choose your look, you then select the shirt, vest/suspenders, shoes, and other wedding accessories. This part was pretty easy because all your options were on one page allowing you to click "add shirt" and then chose the style you wanted. Once you create your account and provide your event information, you begin the measurement process. They ask questions like length inseam for your pants, sleeve length, jacket size, and waist size and claim they have a fitting algorithm that will get your size right. After your measurements are entered, you check out and put in your shipping information and you're all set. Quick note – A rush shipping charge is applied if your event date is less than 16 days out.
Service – Their service was on point and I received a confirmation email right after I completed my order. I also received emails with style tips and tracking information when my order shipped and when it was delivered. The suit rental did arrive 10 days before my event and five days after I ordered it. In the email confirming the delivery, there were instructions to try on every piece and if anything didn't fit well, I had 48 hours to return the suit and get a free replacement which was a little quick for my liking. They offer one helpful feature for couples allowing them to enter emails of everyone their wedding party who needs to rent a suit and will share information on what to order and when to order everything by. This wedding group system is a must for coordinating groomsmen or bridesmen because the less you have to worry about, the better.
Packaging - The box itself was just okay. It was a large black box with the Menguin logo. What I did like about their packaging was the presentation. Their garment bag was by far the best part of it all because it had extra compartments for accessories and shoes right on the bag. Personally, I had never seen that before. There was also some very nice stationary that had try-on and return instructions, along with a nice note about how a $1 of my rental goes to The Humane Society with a picture of an Australian Shepherd wearing a tuxedo. I mean, puppies? Come on. To top if off, there was a sweet bottle opener keepsake. A nice gift no other company offered anything close to. Spoiler alert, I know.
Quality and Fit - First impressions of this wedding suit rental were nice, I could tell this was a quality suit. The inside of the jacket said it was made of merino wool and "The Chicago" was a dark gray color that looked really sharp just like the pictures online. I tried on the dress shirt first followed by the pants, tie, and suit jacket. Now, I am a shorter guy so I do worry about sleeve and pant lengths, and unfortunately, the sleeves of both the dress shirt and jacket were very short even though I ordered my typical 40 short and 31 sleeve length. The pants were the right size and they had a hidden flex-fit waistband which is always a plus in case you drink a few IPAs the night before wearing it all day. I was not overly impressed with the entire suit and the fit. My advice is to think about ordering the longer length if you are on the boarder of short/regular or regular/long lengths.
Value - Pretty pricey to be honest. My total to rent a suit was $249 (plus rush fee) with free shipping. They do offer free returns and free replacements. Additionally, you do have a lot of options when it comes to accessories and each added item is priced separately so you could easily spend more than the $250. In my opinion, the quality and presentation were there but I think you could do better than Menguin for wedding attire when it comes to overall value.
Now onto the The Black Tux…
Online Ordering Process - The first thing I noticed was their large selection of tuxedo rentals in a variety of styles and color. Overall, it took me about 25 minutes to order as the process is a little tedious and not the easiest to navigate. I chose their Home Try-On feature where you have 48 hours to try it on after delivery. This option offers 17 tuxedo options to choose from and I rented their Midnight Blue Tuxedo. The only issue with the free trial was that the event has to be five weeks out so the previously mentioned date of January 28th did not work so I had to adjust it accordingly to allow me to select The Black Tux's home trial option.
One nice feature is that they offer "complete looks" to rent that includes all tuxedo accessories so you don't have to go step-by-step through the selection process. Once you choose your look, you enter your event information (choose from a wedding, special event, or prom) and finish with your sizing details where you enter in your measurements for waist, shoulders, pant length, dress shirt neck size, sleeve length, and jacket size. You then choose either a slim or classic fit, review your tuxedo rental order, and proceed to checkout.
Service - There was nothing too personal about the service as the emails were automated, however, they were pretty helpful. For me, I like the feeling of there being an actual person behind the emails who could help if I had any questions. A confirmation email was sent right away with an estimated arrival date, info on when to return the tuxedo by, a tracking number, and a recap of my order. The tuxedo rental arrived nine days before my event and six days after I ordered it. When my tuxedo shipped, I received an email with a video of "What to expect." Like Menguin, you can create a wedding group to share ordering information and they will send a note to everyone with the details on what they need to buy, when to order it, and how to return it. Overall, pretty informative service.
Packaging - I liked the simplicity of their packaging. The tuxedo rental came a slim box with a handle at the top that made it look like a suitcase. I thought the handle was a nice touch and actually made transporting it more convenient. They provided a garment bag that fit the whole tuxedo nicely and there was a cool accessory bag for the tie. Included in the box was stationary with return instructions and a prepaid shipping label.
Quality and Fit - The tuxedo was very sharp. A dark blue color with black satin accents and a black stripe down the seam of the pans. The tuxedo jacket and pants were 100% wool and made in Italy. The quality was evident and when my wife saw me try it on, she was impressed. The fit was pretty close, but the pants were a little long. Again, I put in my typical sizes and their algorithm recommended my sizes. They do offer free size replacements so if this happens to you, you won't be stuck with the wrong size. I did order slim fit which fit true to size. Everything fit well in the right places. My personal advice here is that anytime you can find a slim fit tuxedo that compliments your physique, you go for it. Especially when it comes to wearing a tuxedo. I really liked this tux and based on the wide variety of options, I'm confident you would find something you'd like too.
Value – The average cost of a tuxedo rental from The Black Tux is about $220 and includes a dress shirt, vest, shoes, neckwear, and cufflinks. They do offer free shipping, free returns, and free replacements so I would say that they are a pretty good bang for your buck.
Men's Wearhouse
Online Ordering Process – Most everyone knows Men's Wearhouse so I had to check them out as they are a popular choice for wedding tuxedo rentals. That being said, if you are ordering online it's a lot harder than the other three companies because they don't strictly do suiting and tuxedo rentals for weddings. Because they are a general suiting and menswear company at heart, it took some time to find out how to even rent a tuxedo so I was frustrated before I even stared the process. Not to mention, Men's Wearhouse does not offer a free try-on option so you have to be 100% certain you're going to go with them from the start.
Their tuxedo rental process begins by setting up your event information. You can even schedule an "expert style consultant" to call you to go over everything. Next, you can choose from 27 different looks from traditional to a little more colorful and modern. The selection process was more convenient than the other companies because you don't have to go through steps of choosing the shirt, shoes, or neckwear individually; everything comes within the "look" you choose. I went with a traditional black tuxedo and after selecting the one I wanted, I proceeded to entering my measurements. They strongly advise you go to the store to get measured but they will let you add in your measurements online in case you don't live near a store. To find my sizes, I entered my measurements into their Fit Calculator and they recommended the tuxedo jacket and pant sizes that would work best. Once I found it on their website, the tuxedo rental process was really easy and quick.
Service - Now to the not so good part of Men's Wearhouse, the service. I'll start with something positive. Like the first two companies I reviewed, they do offer a wedding group system allowing you to enter your wedding party and will email your guys with everything they need to buy and returning instructions.
Things really went downhill as soon as I placed my order as there was a problem with payment. They called me saying there was an issue with their system and that they had to cancel my order. After giving them my credit card information again over the phone, the payment went through and they sent me a confirmation email of payment. Unfortunately, I received nothing else including an email with tracking information so I had no idea when my tuxedo would arrive. I tried calling a representative and they said it should be arriving in the next 4-5 days. My tuxedo did arrive nine days before my event, which was as fast as the rest but still the extra issues and uncertainty was an inconvenience. When you're paying over $200 for something you want to feel confident that it will arrive as expected and their service was not reassuring.
Packaging - The packaging was one of the highlights as I could tell they cared about how their tuxedos and suits arrived to the customer. It appeared like a suitcase and had a handle at the top which, like The Black Tux, I thought was great. Everything fit perfectly inside the box and they had some nice stationary and separate boxes and bags for the shoes and wedding accessories.
Quality and Fit – Is it just me, or do you think of oversized jackets your dad used to wear when you think of Men's Wearhouse? That was my reality with the fit of this tuxedo. Overall, it was just too big and it's not like made poor size selections as I used their "Fit Calculator" providing the same measurements I did with other companies. The tuxedo pants were really baggy like it was the late 90s all over again, and the jacket was big and long. The quality, however, was nice with the tuxedo jacket and pants being made of fine worsted wool and the vest and bowtie were 100% silk. Still, the quality could not make up for the sizing being so far off. If you choose to rent a tuxedo from Men's Wearhouse, I recommend going in for measurements if you can. I wouldn't trust their online fitting process.
Value - It was one of the more expensive options as the total cost to rent a tuxedo was $236. In the end, this tuxedo rental wasn't worth it because of poor sizing and customer service.
Last but not least, The Groomsman Suit…
Online Ordering Process - In four easy steps you are all set to try on your suit or tuxedo. I chose The Groomsman Suit's free Try Before Buy option and it took me about 15 minutes to finish the whole process. The best part here is that you have seven days to try your suit or tuxedo on at home. All the other companies only offered one to two days for the trial. With the free trial, you can pick from eight different looks and then you add in your sizing. If you aren't sure about your measurements they have a helpful Fit Finder tool that will make size recommendations based on some very simple information. I used this feature when selecting my sizes for their textured gray suit. Want to add a vest, shoes or check out some tie colors? Accessories can be added to The Groomsman Suit's trial before checking out. Overall, I think their process was the easiest and possibly the most user-friendly as I didn't have to submit a million different measurements to find the right size.
Service – The Groomsman Suit's customer service was my favorite part. When I received emails from them it was from an actual person. Julie, one of their customer care guru's, sent me emails confirming everything was delivered, sent me a tracking number, asked if everything fit okay and if I needed to send anything back. I loved this personal touch and really showed they cared about their customers' experience. My suit arrived nine days before the event. Right on pace with the other companies. I will also point out that The Groomsman Suit also has a Wedding Group System allowing you to create a wedding group that shares all the details with everyone and follows-up with them to make sure they've purchased everything on time. Even though I was just trying on a suit for free, they were very attentive.  
Packaging - This was the only part where they lacked compared to the others. The packaging was a normal box with their name, a hashtag and social media icons. The presentation inside was nice as the suit came in a quality garment bag and the shoes in a separate garment bag. The suit was nicely placed inside but they didn't have extra stationary or other items like the other companies.
Quality and Fit – I liked the quality of The Groomsman Suit's textured gray suit and it looked just like it did in the pictures online. The pants, shirt, and jacket fit perfectly! To my pleasant surprise, their Fit Finder was spot on. Because of the minimal information this fitting tool requests, I was doubtful of the fit I would get. The chest and shoulders of the jacket felt great being both fitted and easy to move around in. The sleeves were the right lengths and everything felt the way it should around the waist of the pants. It's important to note that the pants come unfinished and have to be hemmed. Other than that, I would have to say that The Groomsman Suit's suit fit the best. In the event it didn't, they offer free exchanges and returns.
Value - The biggest difference with The Groomsman Suit is that you can own your suit instead of renting. Yes, instead of paying $200 to rent a nice suit or tuxedo you'll only get to wear once, you can keep everything to wear it again in the future. Pricing starts at $179 for their jacket and pants and the rest of their catalog is affordably priced making it possible for groomsmen to get suited up for about the same cost as most rentals. Needless to say, The Groomsman Suit may be the best value of them all.
Final Verdict
If you're looking for a wide variety of options in men's wedding attire and want to look your best at the right price, then I would say The Black Tux and The Groomsman Suit are your best choices (Remember, with The Groomsman Suit you can actually keep your wardrobe for the same price as renting from the others). Both offer great service, but The Groomsman Suit truly blows all competition out of the water in the customer service category.
Menguin has good attention to detail but the sizing is a little off and I wouldn't be surprised if you had to go back and forth a bit to get the right sizes. Men's Wearhouse would be my last choice and recommend you proceed with caution if you do go with them based on my comments in their review.
At the end of the day, all these suiting and tuxedo companies have systems making it convenient to coordinate outfits with you and your groomsmen. All have a lot of variety when it comes to men's wedding attire options and they all seem to ship your order within the same time frame. Not all, however, are the same when it comes to customer service and price. Now that you've read my review, I recommend you talk to your guys about their preferences in renting vs. owning. You can check out more reviews for all these companies on TheKnot and/or Wedding Wire. These two wedding sites don't let vendors curate reviews by deleting the bad ones so they tend to be more accurate. Finally, best of luck to all the grooms and engaged couples out there. I hope I've made finding suiting and tuxedos for your groomsmen and bridesmen a little easier for you. Happy Planning!