SuitShop + Samantha Santana Floral Ties Are Here!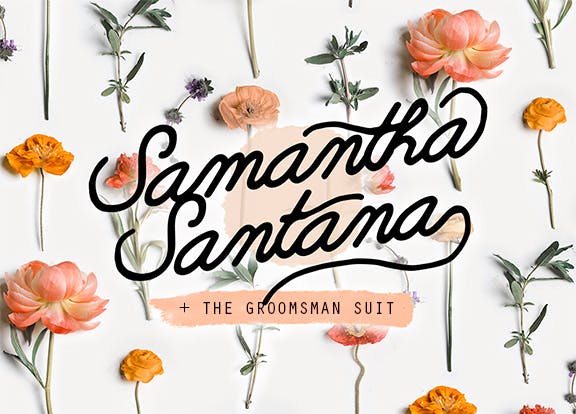 We have been so inspired by the real wedding photos we have received over the years and have fallen in love with the floral wedding tie trend. When we decided to launch our own line of floral ties, we wanted to make sure we found an amazing designer and we found the perfect match in Samantha Santana. We're so excited to now be able to offer trendy ties for our grooms and groomsmen and continue to be a one stop shop for your wedding day! 
 
Samantha Santana is "a Pasadena based artist and designer with a love for all plants and florals. In her former career as a wedding florist, she became an expert in designing with colorful flowers. When she sold her floral design studio, she was searching for a way to weave her skills as a florist and a designer together. Hence the idea for bold floral wallpapers, murals and surface patterns was born!" She says, "lucky for me, my new business has worked out. People seem to love my wallcoverings and I still get to play with plants."
 
As a former wedding florist, Samantha is very familiar with the wedding world and recommends, "coordinating the colors and flower species in the tie patterns with the florals in the bouquets, table arrangements, boutonnieres, etc. The ties include anemones, cafe au lait dahlias, ranunculus, mini carnations and eucalyptus branches, and maybe you could include a few of these flowers into your big day!" We'd recommend taking your tie with you to your meeting with the wedding florist or sending them a photo of the design. When choosing the pattern you'll use on the wedding day, keep in mind the bridesmaids dress colors and any other areas of the wedding where you'll be adding color (tablecloths, decorations, etc). 
 
As all of the items you purchase through SuitShop are yours to keep, don't be afraid to add these bold ties to your non-wedding-wear wardrobe. Samantha recommends, "when styling after the wedding for work or a date night, pair the tie with simple, neutral colors to really let the florals pop." A white dress shirt and navy blazer is always a great neutral look that is begging for the addition of color, but check out or other ideas for how to re-wear your SuitShop suit after the wedding here. 
Looking for gifts for your bridesmaids or cute supplies for school or work? Check out Samantha's collaboration with May Designs. And, make sure you check out her amazing wall art for your home at samanthasantana.com. As you make your style decisions for the big day, learn our tips for wearing a patterned tie on your wedding day and take a look at the Real Weddings page for inspiration!