Wedding Diet and Fitness Tips Q&A With Coach Lee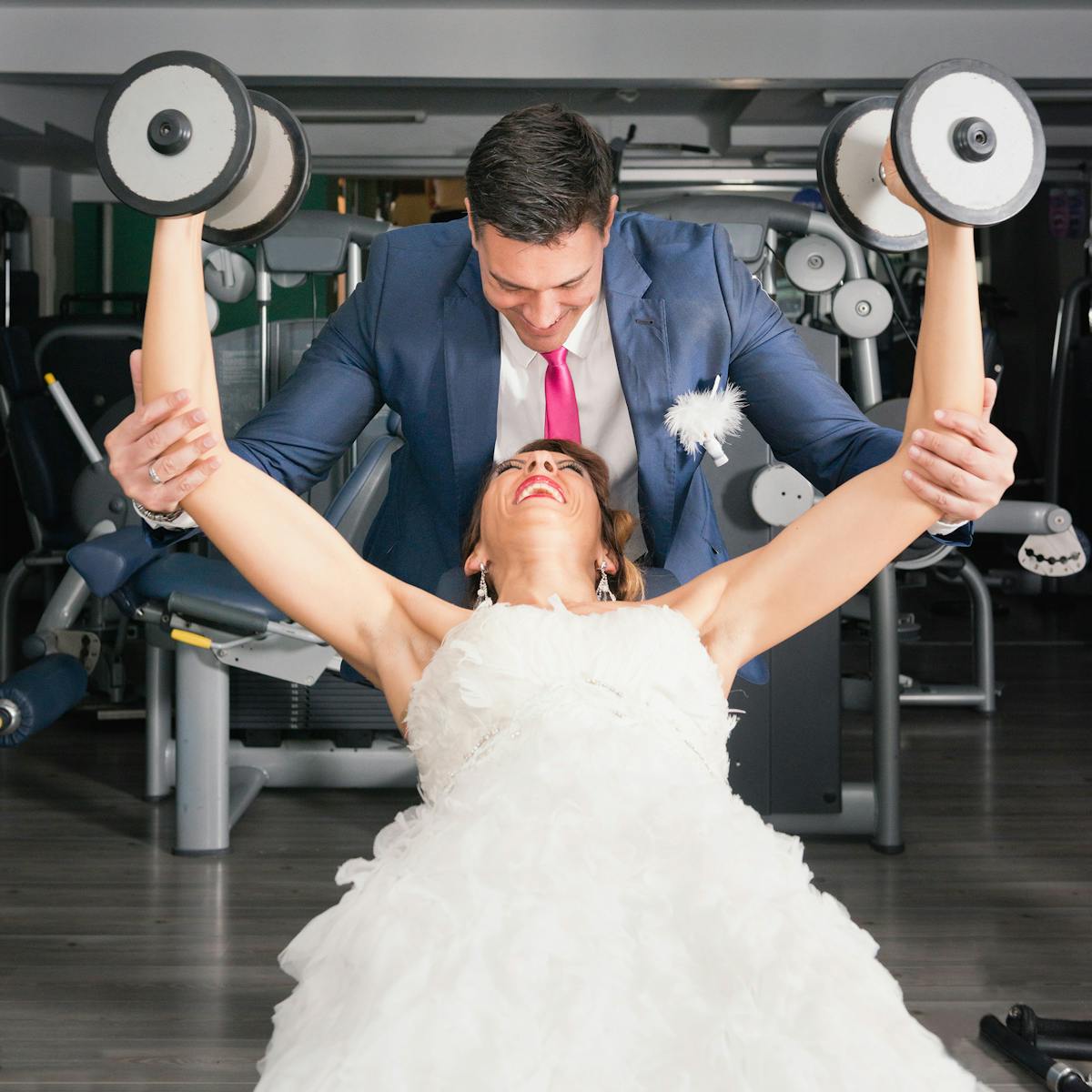 We often hear from our couples that they have pre-wedding fitness goals and want to wait until the last minute to order their suits. We understand. It's a big day, you'll be taking a lot of photos, and you want to look your best. We've connected with Coach Lee who started FitBride NYC to help couples get ready for the big day!
Q: If I want to "get in shape" before my wedding day, how far in advance do I need to start training? 
A: The first thing to consider is what "get in shape" means to you - identifying what your specific goals are. Is it weight loss? Do you have a target weight in mind? Is it just to feel good? Is it building muscle? The answer will determine how much time you need.
Most of our brides start out about 8-9 months before their wedding, and this is what we recommend. This is a solid amount of time to get yourself into a routine, find what works and doesn't work for your body, and be able to make real lifestyle changes that last well past the wedding date. For example, if your goal is to lose 20 pounds, it's not a healthy idea to give yourself 4 months to do so (also not good for your tailor!). Another example is that it can take taller men more time to build muscle, especially if they also have a faster metabolism.
We do have some brides that don't start until about 5 months out, and that can be enough if the goal is simply wanting to feel their best.
If you can define what it is you are wanting to feel and define what changes you want to see, you have a clearer picture of how long it will take you to get there. 
Q: What are the best areas to focus on to look great in my suit or tuxedo? And, are there any workouts I should avoid?
A: Great question! We actually require that our brides send us pictures of their dress or tuxedo during training so we can customize their workouts to give them the best look possible!
For men, most times they want to focus on having broad shoulders, a big back, and a slightly smaller waist. If this is the look you are going for, I would recommend putting a strong focus on strength training. Perform exercises that target the shoulders, back, and chest.
If your suit or tuxedo is more of a slender fit, you will want to put a big focus on your nutrition.
If the goal is to have a defined abs, then it's important to focus on your diet first and foremost, and perform isolated core work. No matter which isolated workouts you choose to do, be sure to train those areas at least twice a week.
I don't think there are any workouts to completely avoid - the one thing that comes to mind is overdoing the cardio. If your goal is to build and sustain lean mass, you still want to have cardio in your routine, but not too much. I would suggest 3-4 times a week for 30 minutes each session. 
I think it all comes down to, again, identifying what your vision is for yourself on the big day. From there, you can (or hire someone else to) plan your fitness program to tailor to all of those details you are looking for. 
Q: What can I do at home? 

A: Now that you have addressed what your goals are, look for a plan that matches what you want to accomplish, as well as what you have accessible to you at home. For example - don't use a program that calls for using gym-grade machinery if all you have is a mat and a pair of dumbbells. There is so much information available to us, which is a great thing! But be sure that the place you are getting your information from matches the changes you want to see (if you are trying to gain muscle, don't use a weight loss program!). This is why online coaches are great! They can customize workouts tailored to your specific needs. 
Step By Step Recommendations:
Identify what your goals are and what you want to get out of working out at home.
Decide what equipment you will commit to using for your program. 
 Decide how much time you can commit to your workouts (a program with 30 minute workouts? 1 hour? A variation?)
Look into a plan that's going to be tailored to these things.
SO much can be accomplished by working out at home - doing the homework and getting as specific as possible with your plan closer guarantees that you achieve results, as well as create a program that you can stick to long term. 
Q: How can I make this process as stress-free as possible?
A: That's all up to you! It's up to you to pay attention to what stresses you out and what your triggers are. That could be anxiety about the wedding in general, stressed about finances, stressed about in-laws- we've found a lot of our clients are nervous about being looked at all day and being the center of attention. 
I would say to make this stress-free as possible is knowing what makes you stressed and come up with ideas of what you can do when those things come up for you. How can you channel those feelings into positive actions? Some people choose to work out, to journal, to have a hobby, to have a personal trainer, to go bowling with their fiancé. 
We tell this to a lot of our brides- enjoy the journey leading up to the wedding! It's not just the day that's a once-in-a-lifetime event, but leading up to it can be just as joyous.
When you feel stressed, it also helps to ask yourself "Why are we doing this?" A big amount of the wedding planning is about the party - be reminded that getting married is a celebration of love and unity between you and your partner. If you keep going back to this "why", planning can truly become fun and enjoyable. Find the joy, we say!
Q: What are the best activities my future spouse and I can do together?
A: This is great! I love this question! The best activities to do are the ones that you enjoy! I think a great idea is to write a list out of activities that you guys both enjoy individually first, then sit together and figure out what overlaps that you can do together! It's also important to make compromises - maybe your partner loves to dance and wants to take dance classes, so you support that and do it together. In turn, they will accompany you to that baseball game you keep trying to get tickets for. 
It can be anything - painting class, workout class together, have a personal trainer once a week together- and doing this leading up to the wedding can be really fun. Having one-on-one time leading up to the wedding helps you stay connected, joyous, and stress free. We've had a handful of couples train together leading up to the big day (and continue afterwards), and it's so fun to see them together like that. 
One of the biggest parts of training with us [TeamLeeFit] is our mindfulness coaching. You might think, I'm just coming to you to work out, why do I need that? Paying deliberate attention to your experience in an open, curious way helps you break down the "why I do what I do"; once we address those habits, then we can break down which are holding you back from achieving your goal, and create new ones that support where you want to go.
Address the behavioral patterns, habits and weaknesses, and know you have the power to make the change.
Our job as mindfulness coaches is to help you discover and uncover what those habits are that get between you and your goals. By addressing these unconscious habits head on, we get a better understanding of our clients on an intimate level to support long term results. 
The practice of mindfulness, or awareness, stems from my own mindfulness practice. It's a big part of who I am today and who I have become over the last few years. My method of mindfulness is meditation - which, if you follow me on instagram you already know! 
Right now we are offering a few options for online services!
We have a 12 Week Online Transformation Program - this includes custom workouts each week, coaching through 3 phases of nutrition, as well as mindfulness coaching. This program was designed directly based off of our FitBride by Lee program. 
We are also offering Virtual Training Sessions - train 2-3x a week with a coach live and one-on-one. Workouts are designed specifically to your goals, and come with a mindfulness coaching call as well. 
Lastly, we offer an online-nutrition-only package. We discuss your goals, current habits, and create a real plan to get you where you want to be. 
With every option comes accountability. You get someone to check in with, who is a constant support, and a constant mirror. We want you to succeed! 
You hire professionals to make the wedding cake, to hook you up with the right tux - why not get a professional to help you get in the best shape of your life?
Real Team Lee Fit Couples