Complete the Fit Finder
Get a better fit! Take three minutes to get a fit recommendation using machine learning.
Tuxedo Jacket
$129.00  Select a size.
Tuxedo Pants
$65.00  Select a size.
Free shipping takes 7-10 business days.
Say hello to the new little black dress! Our women's black tuxedo jacket is beautifully designed with a shawl lapel and a single-button front to elongate and slim your shape. Flattering on every woman, this black tuxedo jacket will be the best thing you will add to your wardrobe all year!
Our Slim fit options run small, while our Modern fit runs more true-to-size. We recommend ordering a size up in Slim fit.
We highly recommend filling out the fit finder as a starting point. If you're unsure about sizing, please contact us for a recommendation.
Most orders ship within 24 hours, so you'll have plenty of time to try everything on before your event. Standard shipping typically takes 3-7 business days. Expedited and international shipping options are available at checkout.
If you don't love the fit of your suit or tuxedo, you may return or exchange it within 30 days of purchase. Exchanges and returns are always free for unworn items. Please read our return policy for more information.
Need a return or exchange? Fill out our return request form and we'll be in touch within 24 hours.
Sizing Information
Women's jackets are fitted generously. We recommend ordering the smaller end of the size range you would typically purchase. The jacket is intended to be slimming and has stretch for added comfort.
For a more masculine jacket style/fit, please reference the recommended men's size. All fit options are interchangeable.
Women's pants have a narrow waist with curved hip/thigh and run true to size. The leg is tapered and the length is designed to hit at your ankle bone. For longer trouser length, order one length up or try our mens slim fit pant for a straighter waist-to-hip shape.
Measurements shown are actual garment circumference measurements. When comparing to your body measurements, add at least 1" to your chest/waist body measurement for best fitting results.
Comparable men's recommendations are based on garment measurements. See men's body charts for additional sizing information.
WOMEN'S JACKETS
Size
Chest
Waist
Shoulder
Bicep
Comparable Men's Jacket / Vest
0
34.5"
32.5"
14.5"
11.75"
34S Slim
2
35.5"
33.5"
14.75"
12.25"
34S Slim
4
36.5"
34.5"
15"
12.75"
34S Modern
6
37.5"
35.5"
15.25"
13"
34S Modern
8
39"
37"
15.5"
13.5"
36S Modern
10
40.5"
38.5"
16"
14"
38S Modern
12
42.5"
40.5"
16.5"
14.5"
40S Modern
14
46.5"
43"
16.75"
16"
42-44S Modern
16
48.5"
45"
17.25"
16.75"
44-46S Modern
18
50.5"
47"
17.75"
17.5"
46-48S Modern
20
52.5"
49"
18.25"
18.25"
48-50S Modern
WOMEN'S PANTS
Size
Waist
Hip
Thigh
Comparable Men's Pant
0
29"
36"
21.25"
27S Slim
2
30"
37"
22"
29S Slim
4
31"
38"
22.75"
29S Slim
6
32"
39"
23.5"
31S Slim
8
33.5"
40.5"
24.5"
33S Slim
10
35"
42"
25.5"
35S Slim
12
36.5"
43.5"
26.5"
35-37S Slim
14
37"
48"
30"
37-39S Slim
16
39"
50"
31.25"
41S Slim
18
41"
52"
32.5"
41-43S Slim
20
43"
58"
33.75"
43S Slim / 44S Modern
Recommended length based on height
Height
Length
<5'5"
Short
5'6" - 5'9"
Regular
5'10" +
Long
Inseam Lengths (+1" for sizes 14-20)
Pant Length
Inseam
Short
26"
Regular
28"
Long
30"
Customer Reviews
Write a Review
Ask a Question
06/13/2021
Celeste G.

United States
There is no better suit
AMAZING! There is no better suit. I wore this suit to my civil ceremony and it was the best decision ever. Not only did I looked different because I was not wearing a dress just like every other lady does during their wedding by I looked fashionable and felt confident. I got so many compliments. Loved it!
02/11/2021
Jessica

US
Fantastic!
It was so easy to order this suit (I have the set) for my friend's wedding. The measurements were easy to take. After I sent in my information and places the order for the size I fell into, the company reached out saying that they tend to run a little big and asking me if I'd like to adjust my size. I did so. Shipping was insanely fast, and everything fit perfectly! Such a nice and flattering suit with feminine lines.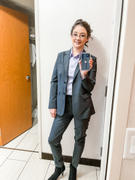 02/07/2021
Emily

US
Looked great, felt a teensy bit tight
My only real complaint about these pants is that they ran just a touch too small. They still looked great, I just had to watch myself at dinner ;) If I had it to do over, the only thing I would change is ordering a size up. If I had done that, I think they would have fit perfectly. The quality was exactly what I would have expected for what I paid. Would definitely recommend to a friend.
01/25/2021
Jessica

GB
Stylish, Savvy, & Chic!
Love the clean and polished look of my white suit! I feel like a true boss in it.
01/20/2021
Dezzarae

US
It was the perfect suit
It was the perfect suit for my wedding. It fit perfectly and the material was very comfortable. I ordered the wrong size at first which came in one week before my wedding, especially living in Hawaii the shipping can be so unpredictable. But the staff at Suit Shops were very helpful and was able to get me a new suit in time for my wedding with no issues. Thank you!