Simple Ways To Accessorize Suits for Women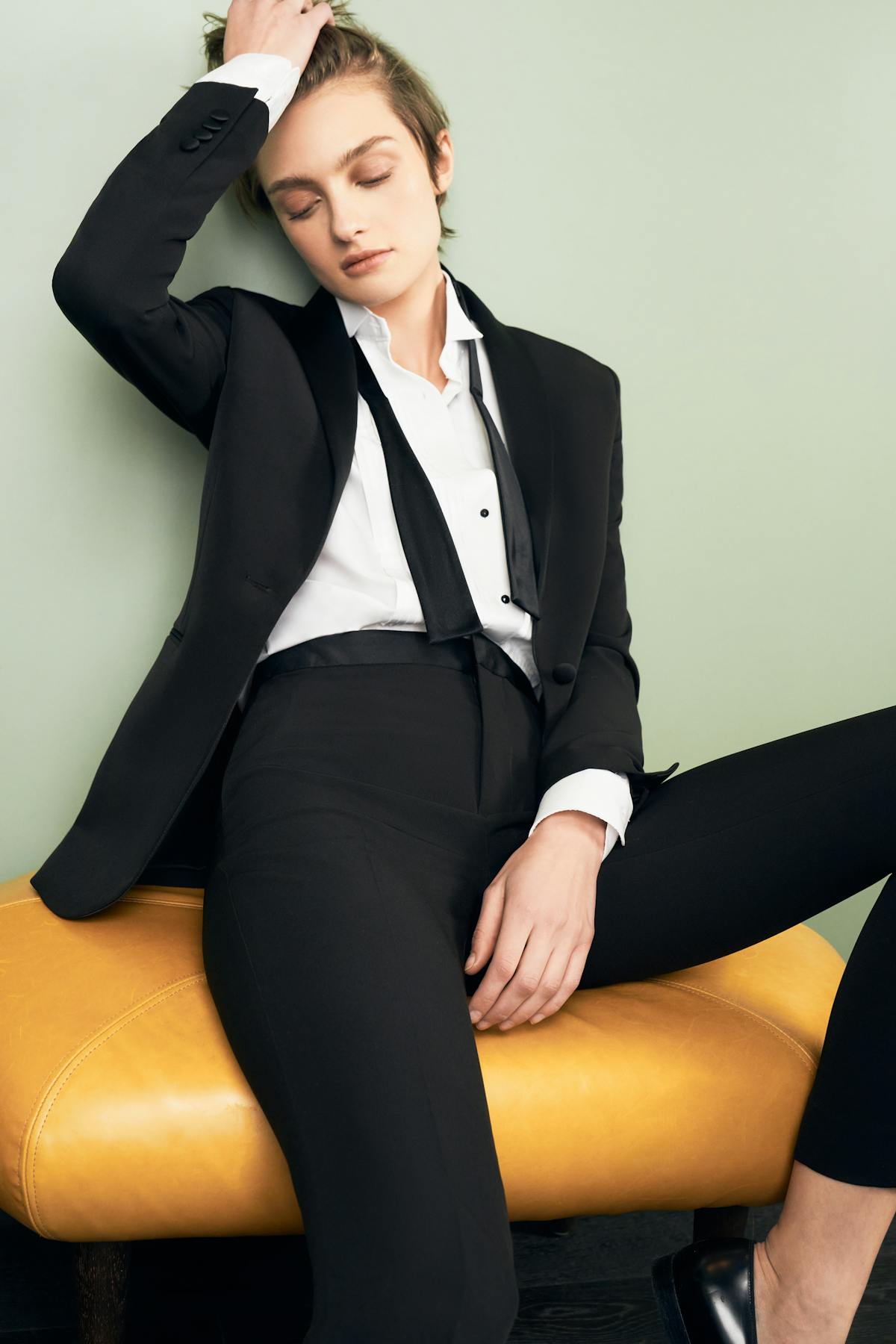 Who says women's pant suits are only for formal occasions?
With more designs featuring playful patterns, cuts, and colors, suits are becoming a staple in women's wardrobes.
Whether you're wearing a traditional suit or a casual one, there are simple ways to accessorize your outfit for a fresher, more stylish look!
But before you start accessorizing your suit, there are a few important factors to consider. These include the style, type, and design of your suit, as well as the occasion.
Styles of Suits for Women
Business Suit
Also called a pant suit or trouser suit, this type of suit consists of pants (or skirt) and a matching coat or jacket.
Business Casual Suit
In general, the staple pieces of a business casual suit include a skirt or slack, a blouse, and a blazer.
Wedding Suit
Bridal suits are becoming more and more popular. These suits, which are often in white, come in unique cuts and styles. Some boast of oversized styles or unstructured blazers while others feature subtle touches like covered buttons or defining sash belts.
Classic Fit
Great for job interviews and corporate engagements - the classic fit can either include a pencil skirt or pants in a more traditional cut and color. For your footwear, you can choose either heels or flats.
Slim Fit
More like a tailored suit for women, this form-fitting suit highlights the contours of your body, which makes it a stylish option for special occasions.
Modern Fit 
A modern suit blurs the line between a classic fit and a slim-fit suit. Modern women's suits are versatile picks for most occasions, from casual to dressy.
Oversized Suit
The oversized suit that's been on-trend for the past couple of years, makes a stylish casual outfit.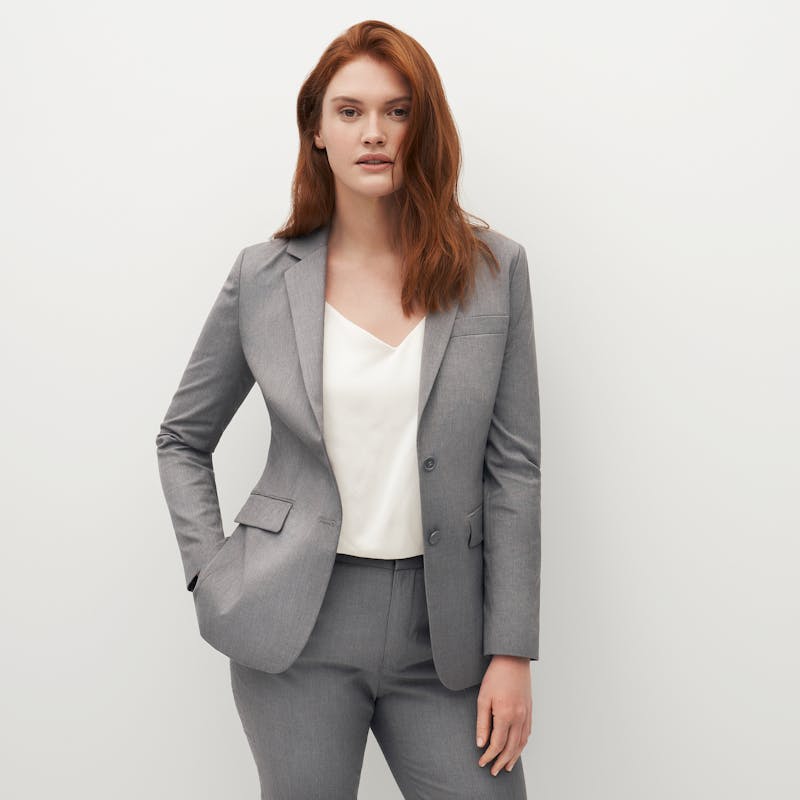 How to Accessorize Women's Suits
Watches
As with any outfit, match the formality of your watch with the formality of your outfit. So, if you're wearing a business suit, choose a more classic watch.
Lapel Pins and Corsages
Lapel pins and corsages used to be worn by men and women only at formal events, including weddings. But these days, you can wear it in business suits and sometimes, casual outfits.
Statement lapels work great at keeping a V-shape as the focal point of your outfit, which is particularly flattering if you're an apple shape.
Jewelry
Necklaces are a great addition to suits as they fill the vacant space of a blazer.
For a more modern and brutal style, you can wear gold link chains - either necklace or bracelet. Bangles are also excellent for making a statement.
Earrings in gold or silver work well with official outfits, such as classic and business suits. More elaborate pieces are best reserved for casual or thematic occasions, like a wedding.
Silk Scarves
Wearing a scarf is one of the most effective ways to style a lady's suit. You can simply hang it on your shoulder and tuck it inside your blazer for a sleek, more formal look.
You can also wrap it around the back of your neck, bringing both ends forward, tie a square knot, and tuck the ends underneath the scarf for a more casual look.
Suspenders
Suspenders are a stylish alternative to belts for both casual and business outfits. They are best paired with traditional suits that have some roominess in the front. Don't use a suspender for a blazer with a belt closure or a non-tailored suit.
Belt
Belted blazers can create a straight or peplum silhouette, which gives more definition to your waist. If you have an hourglass body, a belt can be your most precious accessory.
Bag
When it comes to bags, you have plenty of options. However, you want to choose a structured handbag to match the structure of your suit. The best options are classic top-handle tote bags or sleek envelope clutch bags.
When it comes to designs, the sleeker, the better. Clean-cut leather and fewer compartments are perfect.
But if you're feeling it, a belt bag makes a fashionable choice too. It serves two purposes - you have a bag, and you get to belt your blazer which creates an illusion of a more defined waist.
Footwear
Heels are your best friend when it comes to ladies' suits. In particular - pointed-toe pump heels.
If you're not a "heel" person, opt for a pair of brogues. The classic, lace-up style will keep you in style and feeling comfortable all day long.
Exceptions
Stick to structured bags. No slouchy purses or backpacks, please!
The colors of your accessories should match your suit.
Don't overdo your accessories. A few, carefully selected pieces are enough to enhance your look.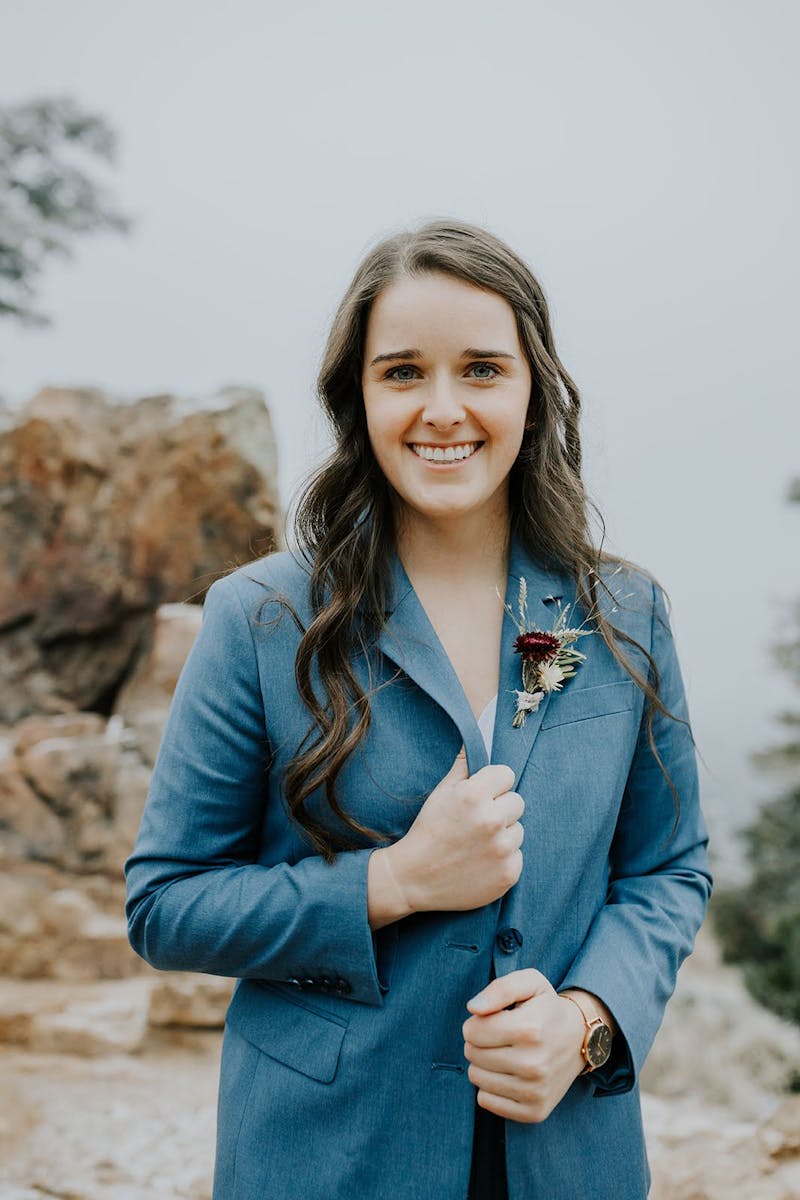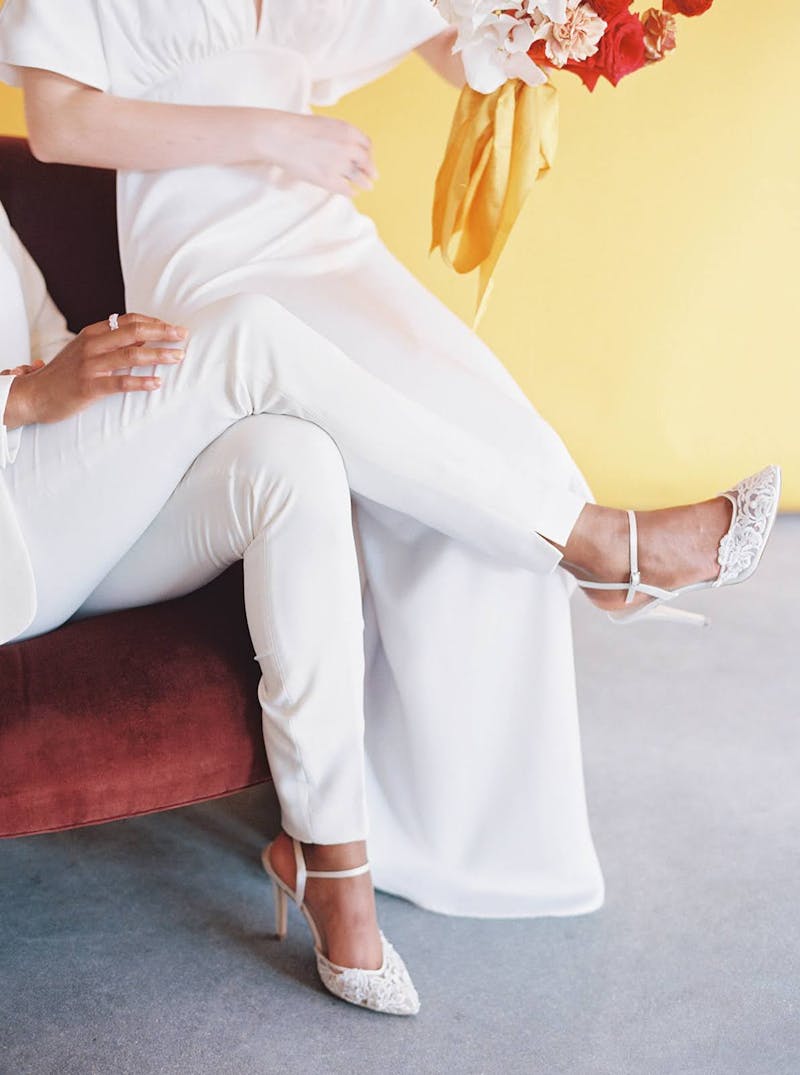 Planning to go for a more formal tuxedo and looking for ways to accessorize your upscale look? Check out our tips for accessorizing a women's tuxedo. And, reach out to us at style@suitshop.com for any style related questions!