2018 Spring Wedding Color Trends And Men's Wedding Attire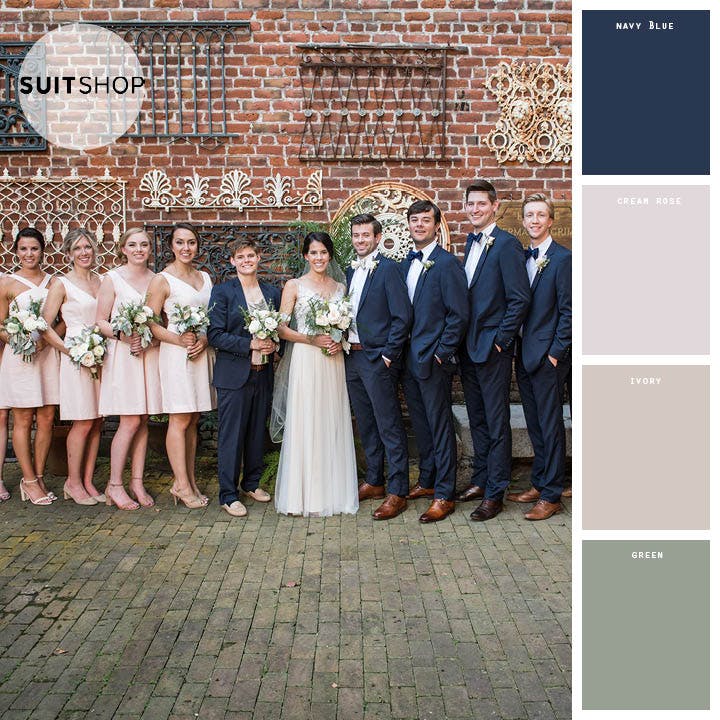 Written by Sara Rae Lancaster
The arrival of the spring weddings colors is here! And this year, these plush palettes are stepping out in style, bringing with them an air that is sophisticated but far from stuffy, fun but not flashy, vibrant, but never loud. Reappearing from 2017 are plenty of vintage and romantic-inspired hues such as mauve, cream rose, and champagne. In addition to the more subdued tones, striking teals and pinks add plenty of "pop" to any wedding party.

The color palette you choose for your wedding day sets the tone for most all other details—the flowers, the stationery, the bridesmaid dresses, and, yes, the suiting for your groom, groomsmen and bridesmen. That's right, considering suiting options when selecting your color palette should go hand in hand just as it would when choosing the bridesmaid dresses. Never fear, SuitShop is here! Because men's wedding attire is all we do, the stylists at SuitShop are here to lend a hand, coordinating suiting with wedding color combinations trending this spring that will make you want to say "I do."
 
Navy Suiting with Cream Rose, White and Hunter Green
Hopeless romantics will swoon over this nostalgic and passionate combination. Against a navy suit each of these colors makes a memorable first impression, whether you're going for a look that is classic or modern chic. For a classic look, pair a fitted navy suit with a crisp white shirt, cream rose tie, and succulent or greenery inspired boutonnière. Looking for something that packs a more modern punch? A green tie (solid or print) paired with a navy jacket makes a bold statement. Complete the look with rose gold cufflinks or just a simple sprig of sage, rosemary or hops flowers pinned to the lapel of your groom's suit. For more boutonniere ideas, check out our Guide To Boutonniere Flower Ideas For Your Groomsmen.
Royal Blue Suiting with Mauve, Champagne and Cream Rose
A kissing cousin to the previous palette, this combination sticks to the romantic theme but adds a touch of Old-Hollywood-glam-meets-modern-fashion. A brilliant blue suit pairs handsomely with a classic white shirt, allowing you to then set the mood with the accent colors. Add a tie in moody mauve or blushing cream rose to give the entire look a softer feel. To send more modern-chic vibes, accessorize with champagne—might we suggest a champagne tie and pocket square ensemble or champagne cork boutonnière. Another option, ensure the groom stands out by having him rock the royal blue suit with matching vest while his groomsmen are by his side in darker blue suiting.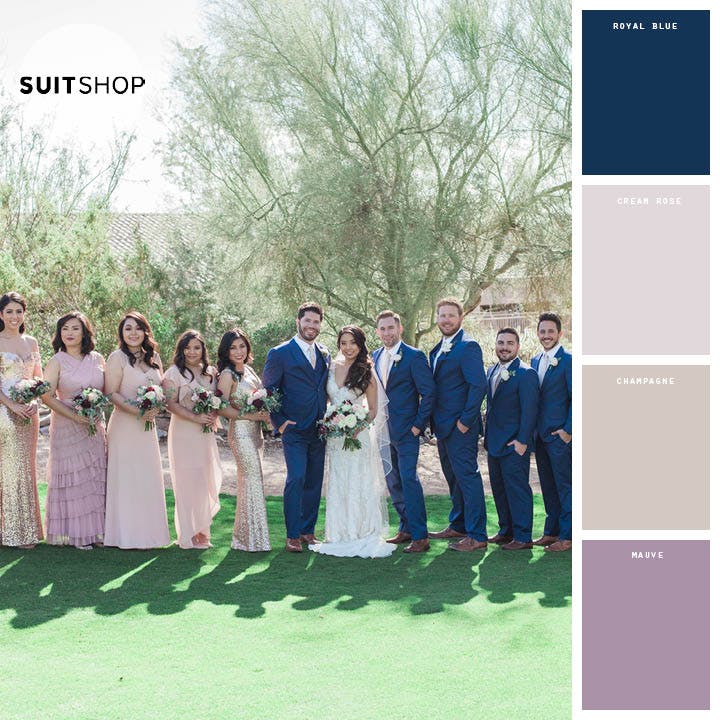 Navy Suiting with White, Silver and Island Paradise
Wedding planning have you stressed? Let Island Paradise (also known as fresh aqua) wash away your stress like waves on a beach. Perfect for a destination wedding or fun spring affair, this light shade of blue-green adds a vibrant splash of color to any wedding party's ensemble. Stylists at SuitShop suggest navy blue suiting for the guys. With your ladies dressed in Island Paradise and guys accessorized with perfectly placed white and silvery accents, you are sure to have a wedding party photo for the ages.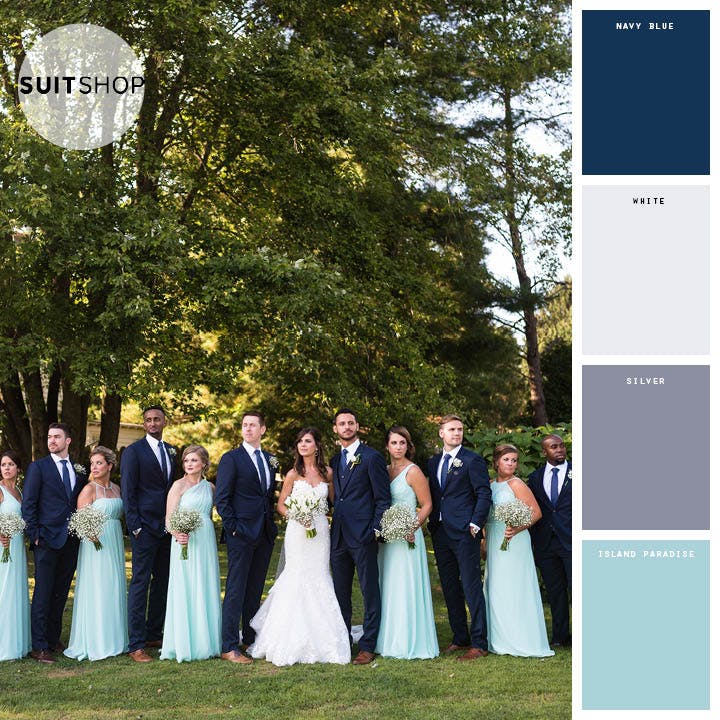 Classic Gray Suiting with Azalea, Cream Rose, and Teal
Versatile gray provides the perfect backdrop to the bright and daring colors in this tropical-inspired palette. Against a gray suit, a pocket square or bow tie in bright azalea packs a punch of color without becoming a distraction. The ensemble compliments the teal bridesmaid dresses, while bouquets of soft peonies or romantic ranunculus in cream rose shades strike a harmonious balance between this bold and beautiful combo.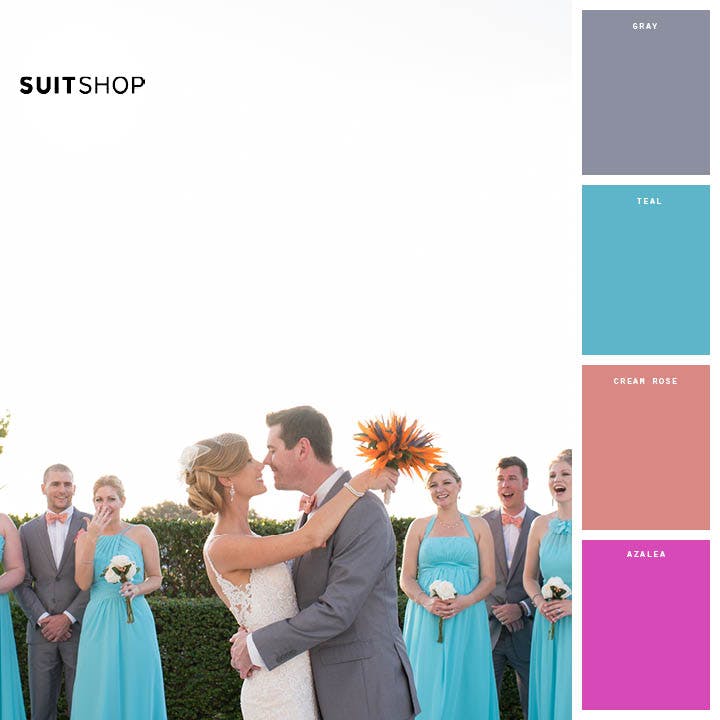 Classic Gray Suiting with Ultra-Violet, Lavender and Silver
It's trendy. It's daring. It's Pantone's Color of the Year for 2018. It's Ultra Violet, and when paired with the right color suit, pulling off this ultra-mod look is totally feasible. The key is creating a look that stands out, but isn't out of place. To do this, we suggest starting with a slim, perfectly tailored suit in classic gray, then accessorizing the ensemble with a textured tie and vest or two-tone pocket square in the trendsetting shade. Simple boutonnières comprised of sprigs of lavender, silver drop eucalyptus, or silver globe thistle soften the look without silencing the reigning color's bold statement. If you're including Ultra Violet in your wedding colors, find more tips on incorporating it into your groom's attire here.