2022 Spring Wedding Color Trends And Wedding Attire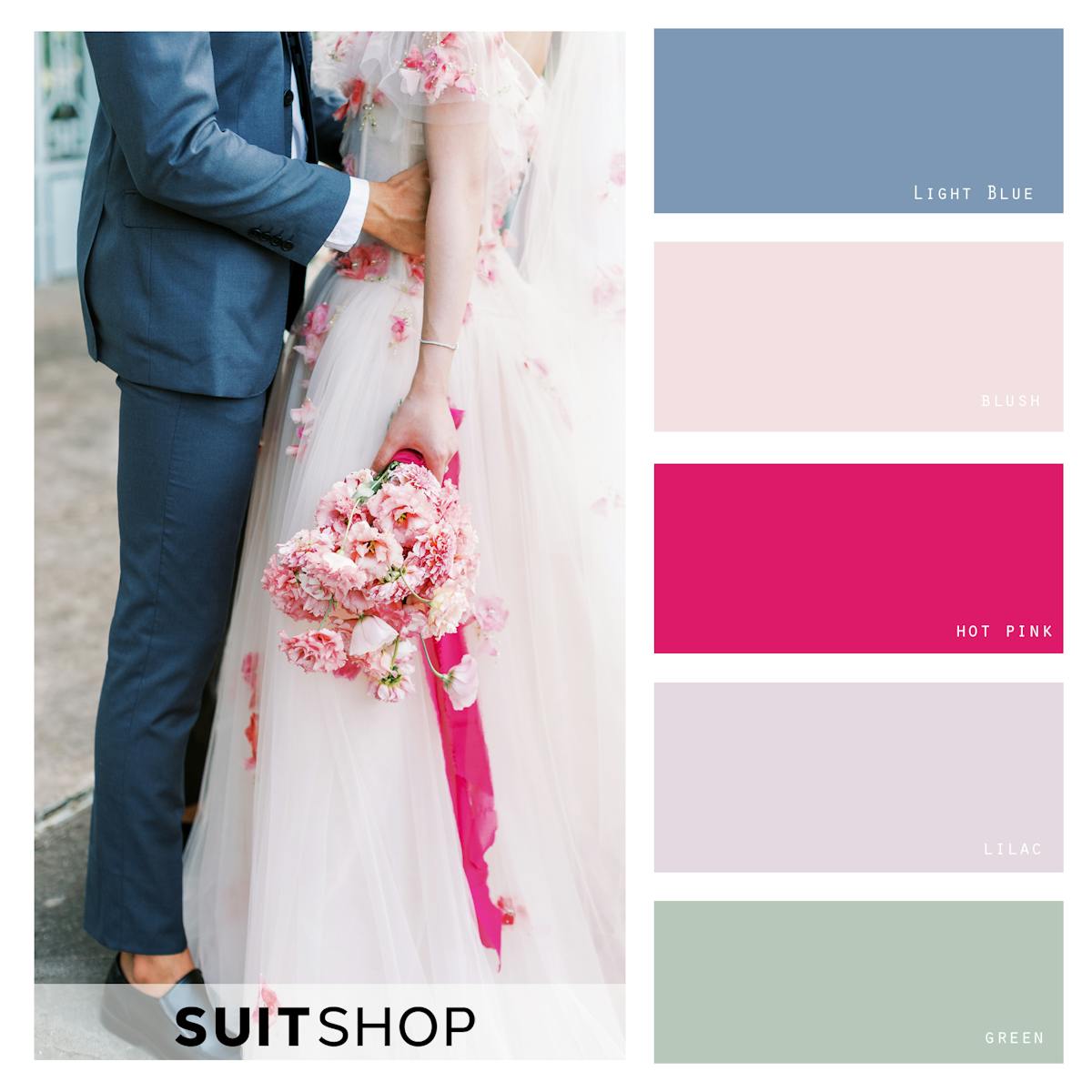 We love that year after year spring weddings are full of bright but calming colors. After stepping out of the cool winter months filled with black-and white-weddings, spring weddings come along to set a tone for the rest of the year. For the coming 2022 and 2023 spring weddings, we predict more color than ever, with classic spring colors like blush paired with bright yellow, mellow sea green, and Very Peri - the color of the year. Get the full run-down on the top color pairings for spring weddings and find what's best for you.
Dusty Blue and Blush
Cotton candy, but make it sophisticated and stunning.⁠ Dusty blue - also known as antique blue or slate blue - is the perfect color to pair with pinks. Blush wedding dresses or bridesmaids dresses look so cohesive next to this smooth shade. Whether you're getting married on the beach or on top of a high rise, this blue beautifully picks up colors in the ocean, sky, or the honeysuckle and hydrangeas in your spring floral arrangements. 
In the coming years, blush, always a spring classic, won't just be seen on the supporting members of your wedding party. Blush and floral wedding gowns are gaining popularity. It's time to be more creative with how this classic color can make a bigger statement this season.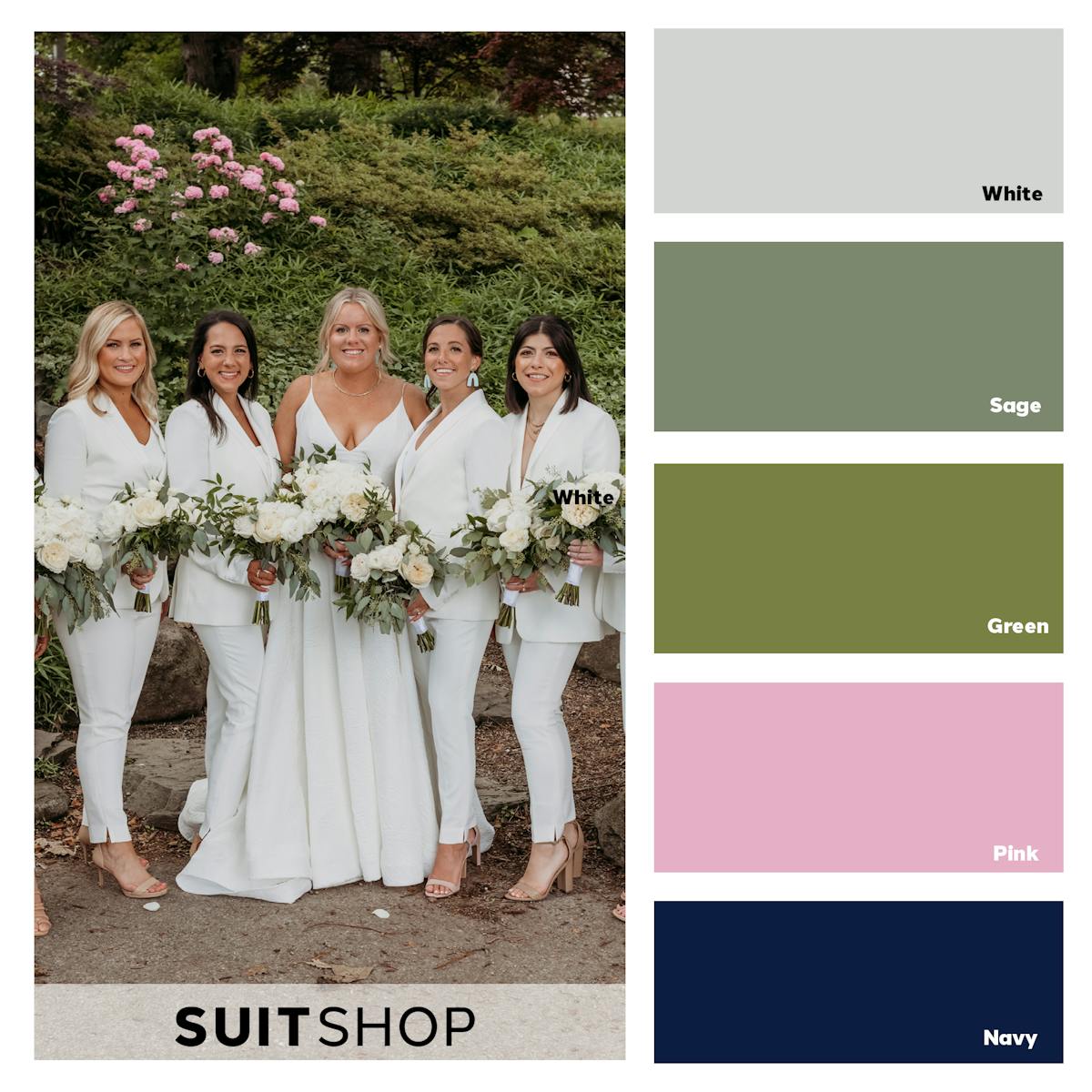 Sea Green and White 
White is the new black. Dressing your wedding party in white is a great way to make a statement while still sticking to the neutrals. And, no need to worry; you'll still stand out as the bride if you keep your wedding party in classic silhouettes like A-line dresses or full power suits. 
If white is too light for you, a minty sea green is a great alternative. This muted color is also perfect to blend together if you're going for the mixed-and-matched bridesmaids look. Consider pairing whites and light greens with pops of bright yellow to really celebrate the arrival of springtime!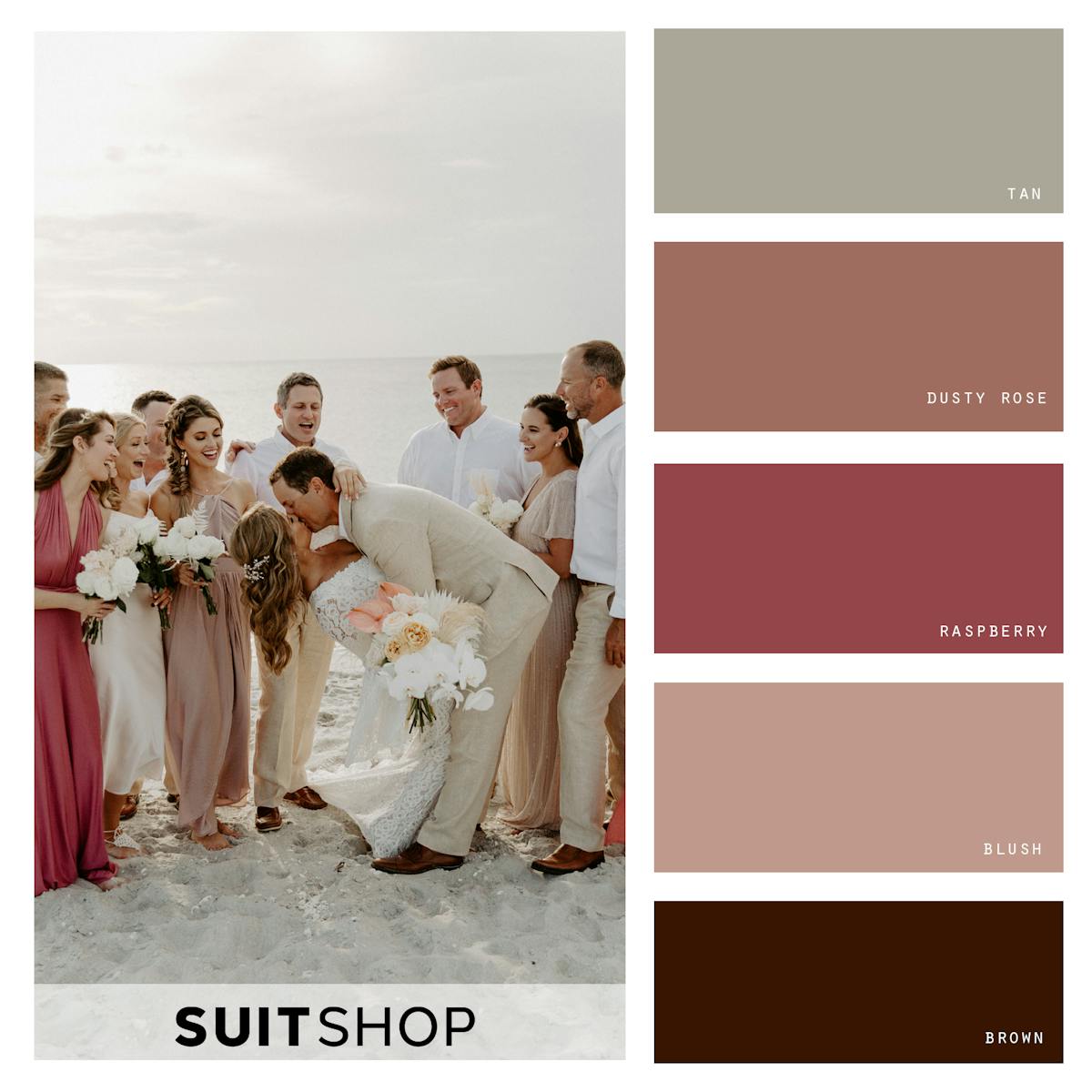 Dusty Rose and Tan 
Whether you're getting married in the sand, using unity sand in your ceremony, or just want to bring a little bit of the beach to your big day, sandy-colored tan suits make for perfect spring or summer wedding attire. Dusty rose is a classic tan counterpart, and both shades look fantastic with pops of supporting colors like terracotta and emerald green.
Mauve and Light purple 
Gray and purple are a classic pair. But, instead of the spring classic light gray for your suits, we think 2022 is the moment to go bold–and a bit moody, too. Try out a dark charcoal gray instead, which looks especially lovely with in-trend periwinkles, lilacs, and purples. When you think about using the color of the year for 2022 in your wedding, keep the Pantone Institute's description of the color in mind: "encompassing the qualities of the blues, yet at the same time possessing a violet-red undertone, PANTONE 17-3938 Very Peri displays a spritely, joyous attitude and dynamic presence that encourages courageous creativity and imaginative expression." Sounds like a perfect backdrop for a spring wedding to us!
This season, it's all about sticking with the classics (white, blue, pink), but finding ways to make them bold and unique. As you build your dream wedding board, consider ordering swatches from companies like SuitShop, Birdy Grey, and Zazzle, and let us know how we can help make your dream vision a reality!