Let Your Shoes Do the Walking and the Talking: 5 Tips for Matching Your Shoes with Your Suit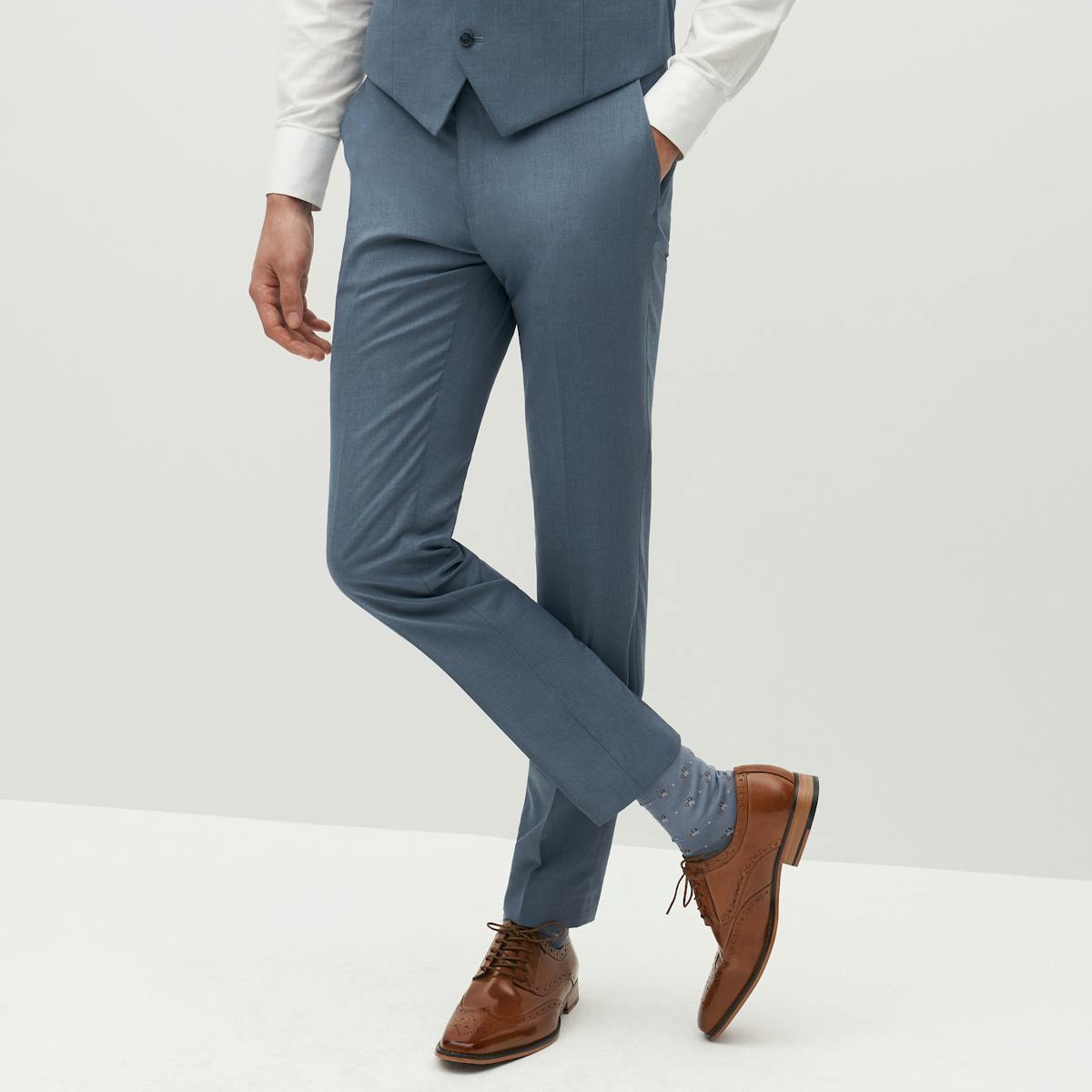 When gearing up to get dressed up, it's easy to overlook finding the perfect shoes to pair with your suit. Whether you wear your suit everyday or only for special occasions, it's a smart idea to choose the right shoe color for your ensemble so that you always look polished and put together. But truth be told, matching your suit with your shoes can be a tricky task, so we've created this guide to help you nail your look.
Here are five essential tips to keep in mind when choosing the perfect kicks to sport with a suit.
Know Where You're Going
The first step is to consider what occasion you're suiting up for or where you're wearing your ensemble. Do you have a wedding, interview, or meeting, or do you wear suits everyday to work? Your shoes should reflect the environment you're in as well as your personality. Keep in mind that the more formal the event, the more formal the suit style--which, ultimately, means the dressier your shoes will be.
●Formal: Wondering what color shoes to wear to a formal event? Opt for classic colors, like black or brown. Or depending on the occasion, choose a flashier option with more intricate shoe designs or a patent finish. If you're wearing a women's suit, you can look for a great pair of heels to complete your look.
●Business professional: In a professional business environment, leather wingtips or monk strap shoes in brown, black, or dark burgundy are great choices that pair beautifully with most suits.
●Business casual: If your workplace permits casual jeans or khakis, you can wear tan or brown slim dress boots or suede loafers. Tasseled loafers can also give your look a touch of formality and fun. For women's looks, opt for a pair of boots or booties.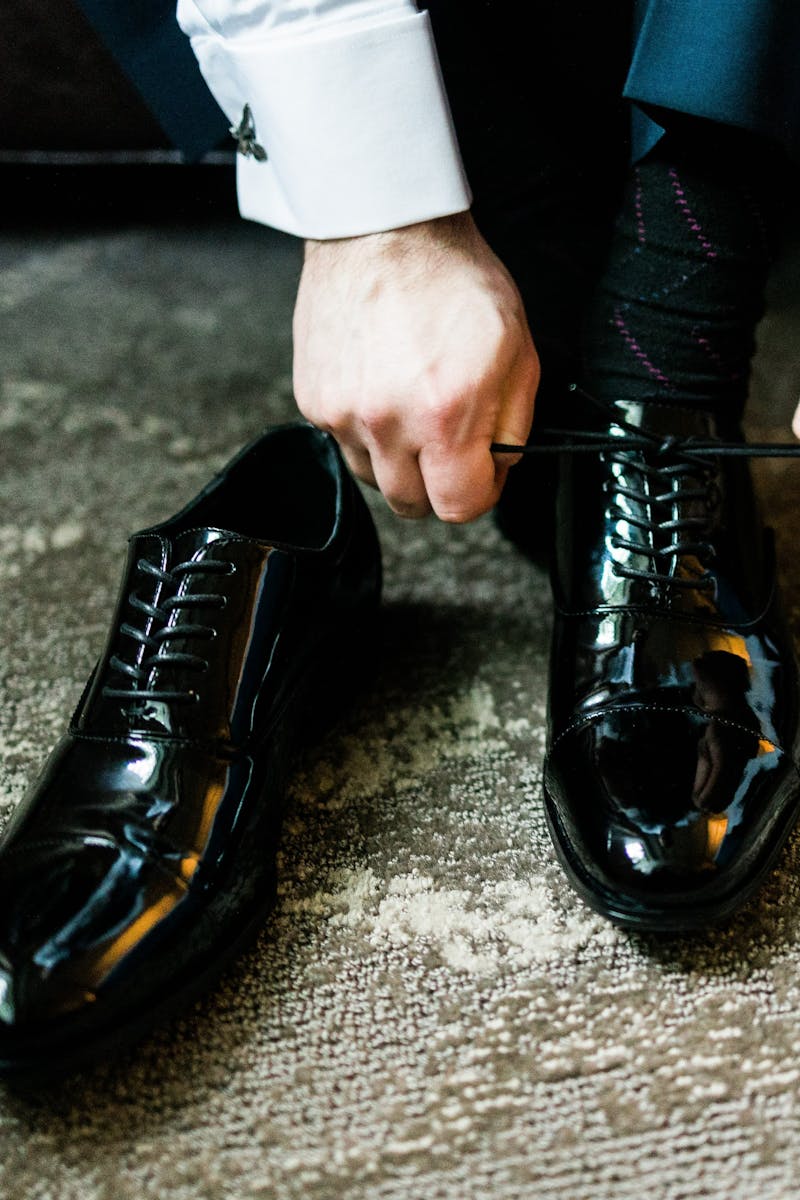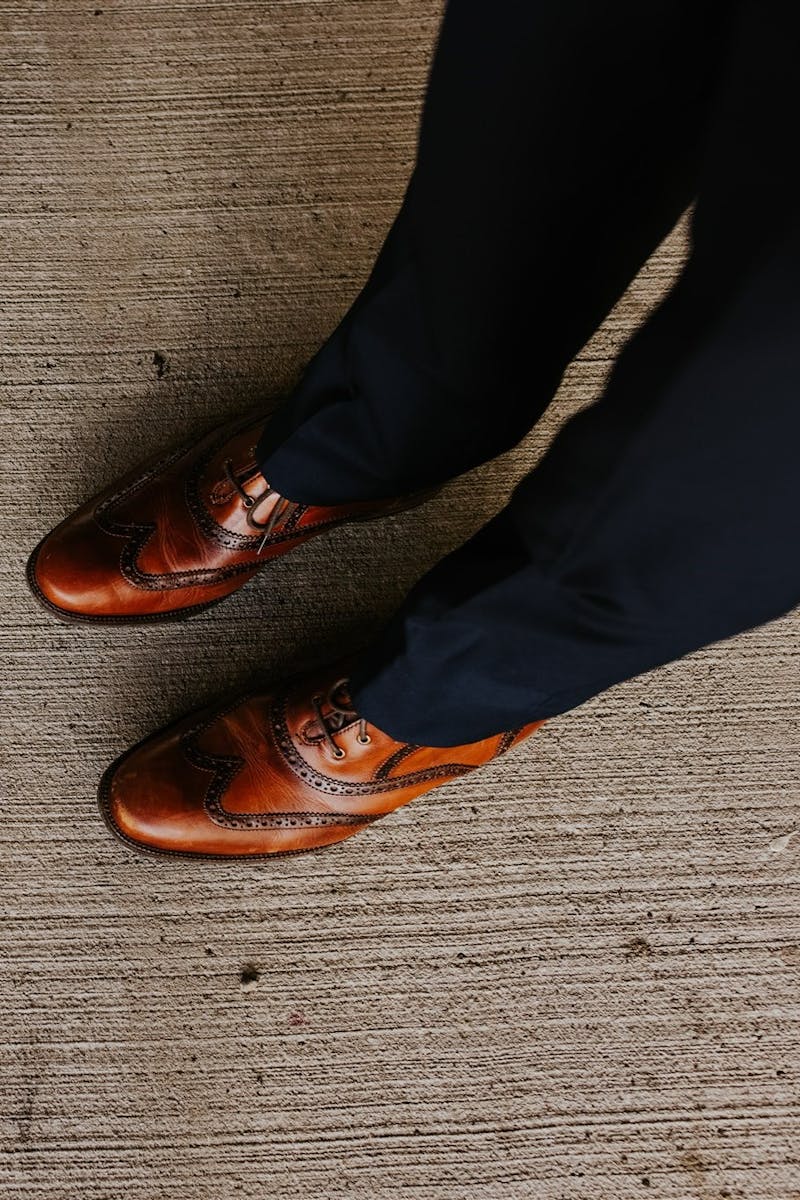 Start with the Suit
A correctly fitted suit is something to be cherished. It's your armor for workdays, interviews, and formal events. Depending on where you're headed (and how fancy your dress shoes need to be), it's crucial to pick an appropriate suit for the occasion. There's a fabric and color for every season, dress code, and situation, from black to burgundy; wool to linen. Once you've decided on the perfect suit to match your upcoming occasion, it's time to consider your footwear.
Color is Key
Selecting the right shoes to wear with your suit is the finishing touch for any dress code. Now that you've determined how formal the occasion will be and you've selected a suit to go with it, it's time to choose the dress shoes that will pair best to pull it all together.. The style and formality of your footwear will have an impact on your entire look and help to dress you up or down--so use your shoe to carry your look in the stylistic direction you want to go. With unique shoes for men that match or complement your suit, you'll be ready for everything coming up on your calendar. From weddings and special events to business meetings, there are shoes for every event in your life. Here's how to match your shoes to your suit.
● Black Suit
Wondering what color shoes you should pair with a black suit to help put your best foot forward? Black goes with almost anything, and your black suit can be a fun backdrop for a bold or vibrant pop in your shoes. Although there are several possible color pairing options, depending on the formality of the occasion, the most popular color to go with a black suit is classic black for the shoe, too. Take into consideration the design and details of your suit and make sure you choose an appropriate finish that perfectly complements your ensemble. Look for shoe finishes in matte, patent leather, and velvet, to keep the look dressed up.
● Navy Blue Suit
A classic neutral that is fitting for several levels of formality, a navy blue suit unsurprisingly matches well with several shoe colors. Look for options in black, brown, or burgundy for an outfit that looks well thought-out and professional. These colors naturally complement the navy color of the suit without clashing or being too distracting.
● Light Grey Suit
If you're opting for more professional dress shoes for suits that are grey, black shoes are an excellent choice. If your suit leans more towards a lighter grey color, look for brown shoes as a more casual option. Cognac (a warmer brown) is also ideal for lighter grey suits, which are great for the spring and summer months.
● Dark Grey Suit
A burgundy oxford or black monk shoe lends a stylish and relaxed tone to a dark grey or charcoal suit. Black is well-suited for a professional look, while burgundy is great for a less formal event. Complement your look with a matching tie and pocket square to bring it up a notch.
● Brown Suit
Brown shoes with brown suits? Absolutely! However, it's smart to have a noticeable difference between the shades of your shoe and your suit. As a general rule, it's typically best to choose a brown shoe that is a shade or two darker than your suit color. This will ensure that your outfit has a distinct contrast. Burgundy or oxblood shoes also make excellent shoe color choices for brown suits for similar reasons, since you'll still get contrast without the clash.
● Colorful Suits
Do you love a colorful suit as much as we do? Great--there's a shoe for that! . These more vibrant suits are typically designed for less formal events, and they may be combined with a variety of patterns and colors to build out an ensemble with lots of intrigue. There are a few color options that may work with your suit. First, neutral shoe colors are always a safe option. Look for black, navy, or white shoes to act as a secondary role in our outfit. Or, go bold and match your suit to your shoes in the same color!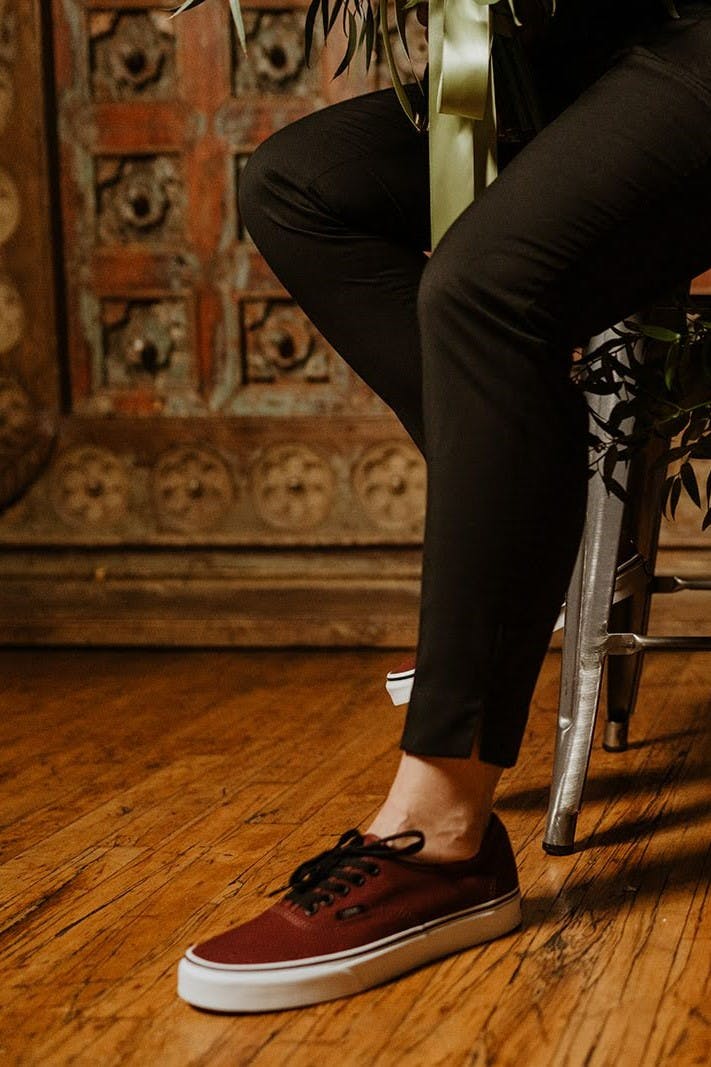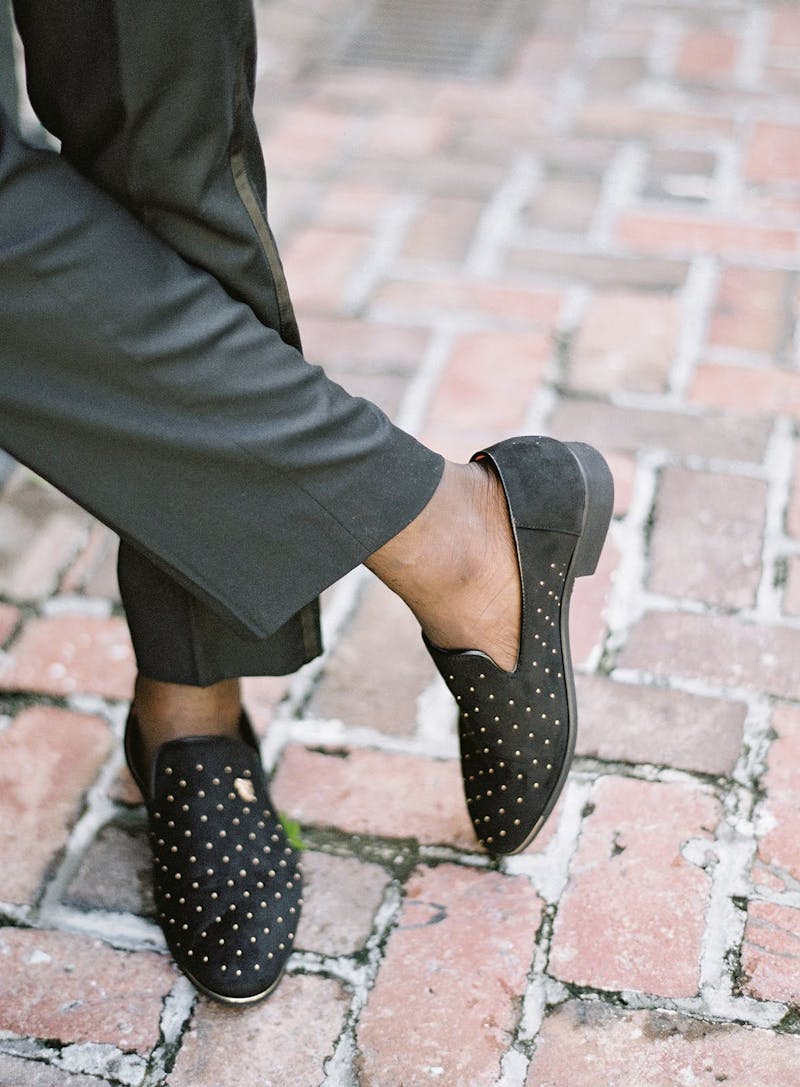 Style Seals the Deal
The way your shoes tie your look together from head to toe goes beyond their color. The specific style and type you slip into makes, arguably, the biggest difference. Subtle construction details differentiate the various standard dress shoe types and coordinate with separate dress codes as well as personal tastes. A general rule of thumb to stay aware of is that the more clean and simple the design, the more formal the shoe.
● Oxfords and Derbies
Oxfords have clean, simple construction where the leather surrounding the laces is connected smoothly to the vamp. Oxford shoes are some of the most versatile to add to your wardrobe, since they are a standard option to pair with a tuxedo in your most formal moments but also have the option to be dressed down.
Quite similar to oxfords are derbies, but here, the leather around the laces is layered over the vamp. Derbies, despite the resemblance, are a definitive step more casual than oxfords. While they may be slightly less appropriate for a black-tie occasion, they're still a great choice for your more dressed-up events and more formal suits.
● Brogues and Loafers
Brogues keep the same general dress shoe shape that we've seen with oxfords and derbies, but they add layers of detailing and texture. Signature perforations and wingtips define this classic look. With the added detail, the level of formality drops, making brogues perfect for more casual cocktail looks, professional settings, and more.
A newer addition to the roster of acceptable suit shoes, loafers lie firmly within the options for your more laid-back suited get-ups, and with super-sleek loafer options, you can even add these into some dressier outfits. These slip-on styles have a variety of design iterations. Between pennies, tassels, and buckles, loafers can be a great way to express your personal style while looking put-together in a suit.
● Boots and Sneakers
Boots are most casual and toned-down of the standard shoe pairings for suits. With sleek and elegant options, these ankle-height shoes can be great for office settings or daily wear.
Though deeply untraditional, adding a pair of sporty kicks with your suit can be a fun, ultra-modern take on suiting up. Both super bulky and clean canvas or leather varieties make for a fun, high-fashion, or streetwear take on a suit. While certainly not for your black-tie moments, this is a no-fail way to make your look your own.
Keep an Eye on the Formality Scale
It's important to keep in mind the formality of shoes when you're considering what shoes to wear with your suits. While it's important not to be too casual, a formal shoe can also look out-of-place if paired with a smart casual outfit that's already very relaxed or informal. Shoes are really just another piece of clothing and you can play around with all the elements of your look (suit, shoes, accessories, materials, colors) to create an ensemble that best fits the occasion.
Since they come in so many colors and styles, once you know the standard guidelines, it's easy to find shoes to perfectly match any kind of outfit or event. Shoes are a great way to add color and personality to your look, so don't be afraid of shoes that are bold or unusual. Go ahead and try out these ideas to find the best shoes to wear with your suits and make a great impression.