How to Stand Out as The Groom on Your Wedding Day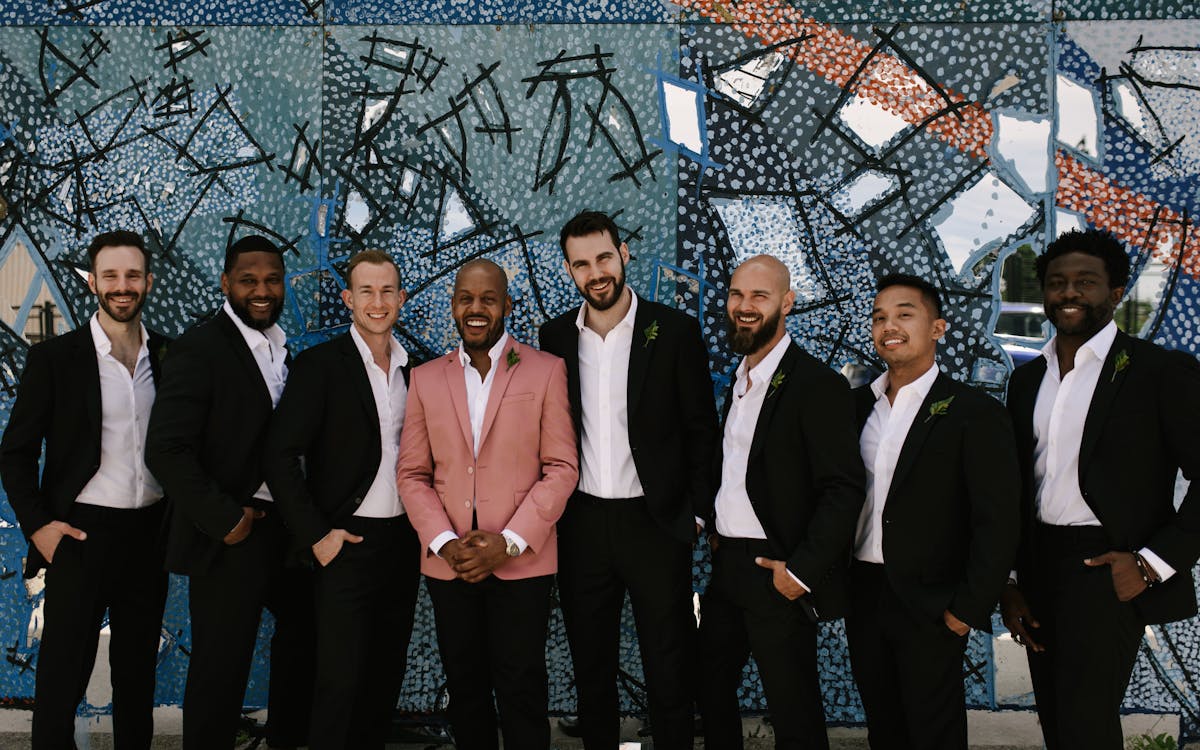 You often hear that the wedding day is "all about the bride," but we recognize that this is the groom's special day too! While the groom may not wear something as extravagant as a wedding gown, we still believe he should do something special to stand apart from his guys on the wedding day. Below are a few tips to make sure your groom looks the part on the big day. 
Add a vest
One easy addition to your wedding day look would be to add a vest. The groomsmen may appreciate not having the extra layer, and a three piece suit on the groom is the perfect subtle way for him to stand out during the ceremony. Our favorite reason to put grooms in vests happens later in the day. At dinner, when the guys start to take off their jackets and get comfortable, the groom will continue to stand out all night by being the only one wearing a vest. This simple layer is slimming and would look great all night while he's tearing it up on the dance floor. Not sure when to take your jacket off on the big day? We've got the answer for that here.
If you're planning an outdoor or destination wedding where your groomsmen will be in vests without jackets, then the groom can wear a jacket to stand out. A jacket is a great addition for couple photos and the formal ceremony. And, since we are not a suit rental company, you'll have a full suit to wear to another event after the wedding.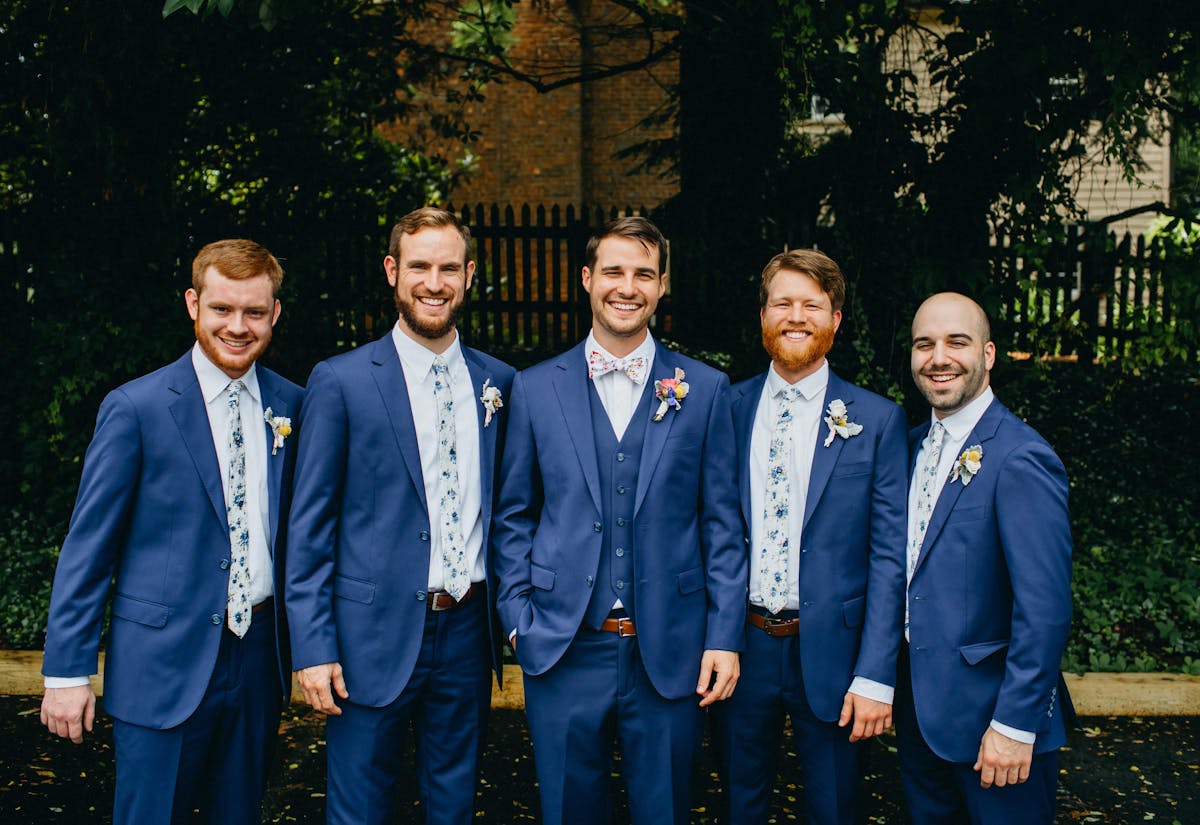 Wear a different tie
You can really be creative with tie choices for the wedding day. The first thing to decide is how formal your wedding will be. If you are hosting a black tie event, it is traditional that all of the guys will be in black bow ties to match their black tuxedo jackets. If you're planning for the groomsmen to wear pre-tied bow ties, have the groom wear a hand tied bow tie. This subtle difference will up his look just enough. You can also play around with black ties in different textures and patterns. 
If your wedding isn't black tie, you have the option to wear a different tie color or pattern or a different style of tie all together. If you're a groom who will be adding a vest to your look as well, we love seeing a bow tie with the vest. Sometimes vests can hide slim ties too much, especially if you are opting for a fun pattern, and the bow tie gives you an opportunity to show that off, as well as your personality. If you will all either wear slim ties or bow ties, think about changing up the color of your tie. Grooms often gravitate towards ivory and cream ties to link them to their beautiful bride. This neutral choice will never go out of style, and your groomsmen can wear a tie color that corresponds with the bridesmaids' dresses. 
If you're having a rustic, beach, or informal wedding your groomsmen may not need to wear ties at all. In this scenario the groom can be the only one to wear a tie while the groomsmen unbutton the top two buttons of their dress shirts for an open collar look.  
Be more formal
It is likely your bride will be wearing something elegant and glamorous on the big day so maybe you should too! Opt to wear a full tuxedo or a tuxedo jacket paired with suit pants while your groomsmen wear suits in the same color. Your shiny lapels will look great next to your bride's wedding day sparkle. You can also pair your wedding tuxedo with shiny patent leather shoes or loafers to stand out from head to toe. 
Another option to consider is a more formal shirt. Traditionally, groomsmen wear a classic white shirt on the big day because it is simple and easy. If the groom will be wearing the same outfit as the guys, wear a formal french cuff dress shirt instead of the classic barrel cuff. You can shop for personalized cufflinks with your wedding date on them or a design that is meaningful between you and your significant other. You'll have a great memento from the wedding day to use for the rest of your life.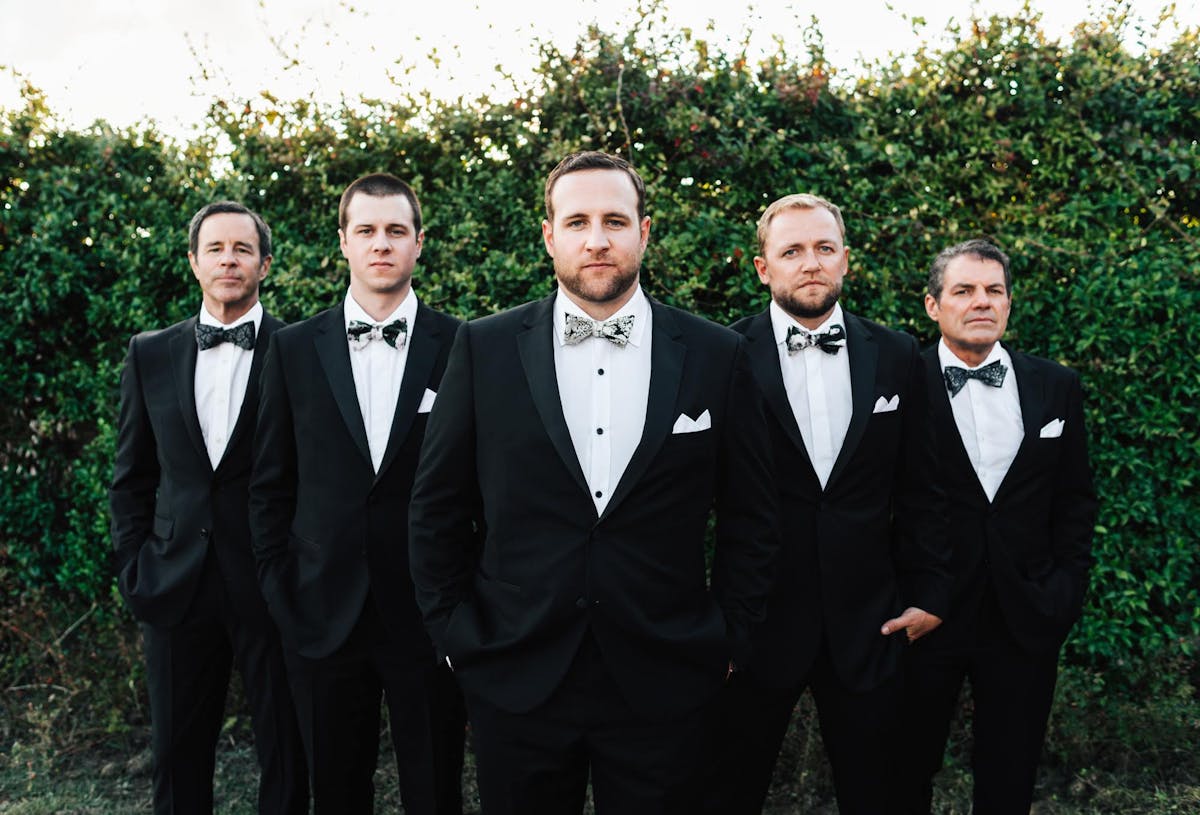 Wear a different color  
Wearing a different color suit or tuxedo can be especially helpful when you are hosting a black tie wedding and your guests, as well as your wedding party, will all be donning tuxedos. A navy tuxedo with black lapels will still be classy and you won't get lost in the sea of black. For a black tie wedding, you could also pair your tuxedo pants with a fun velvet blazer. 
If you won't be having a black tie affair, an alternative suit color can help you stand out next to your bride. Light gray groomsmen suits are so natural that if the groom wears a navy, black, or charcoal gray suit he will still look like he belongs while also looking like it's his special day. Looking for something light and summery? Dress the groom in our Light Blue Suit and the guys in navy. Do you like the idea of standing out in a different color but are afraid you'll be TOO different? Try pairing a different jacket with the same pants that your groomsmen will be wearing.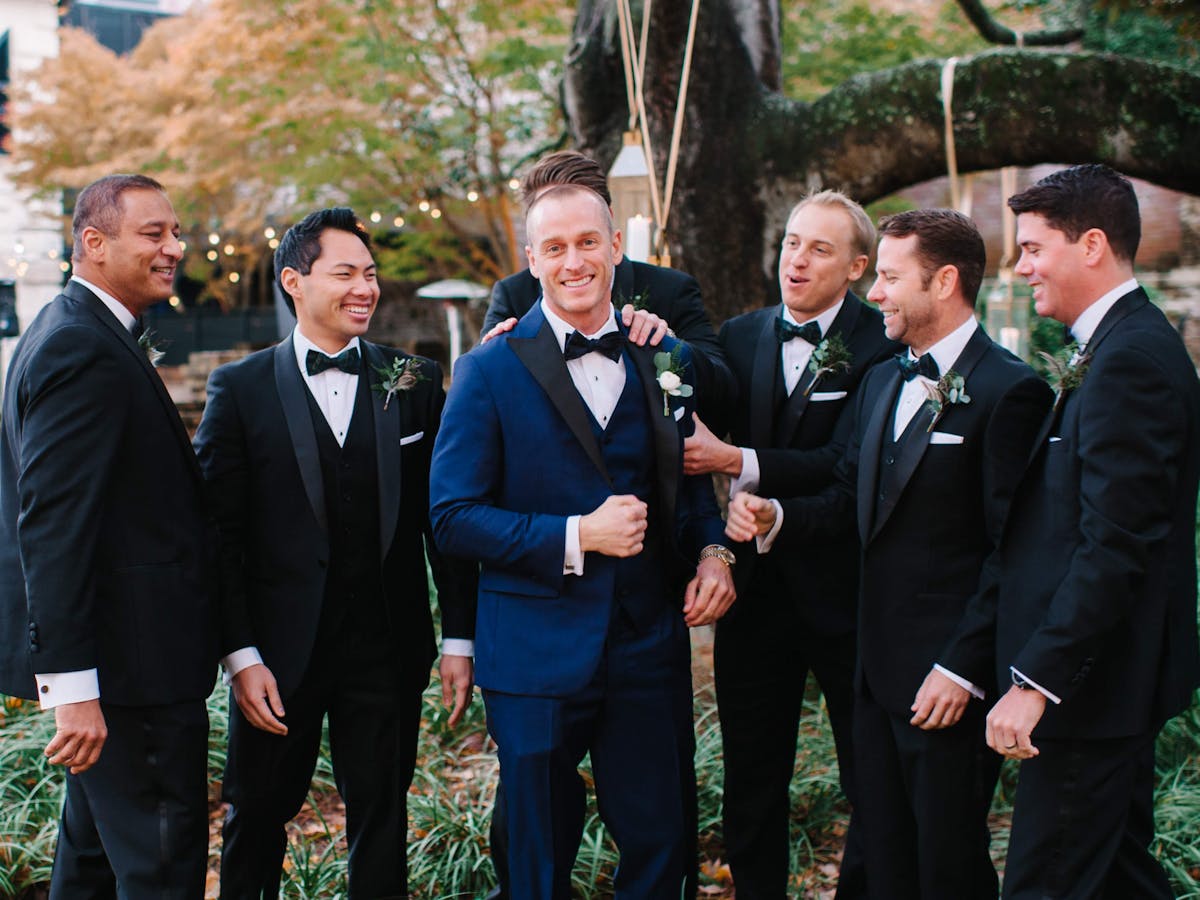 Grooms, don't forget that this day is also all about you! However you decide to stand out from the crowd just remember that this is a special day for you and your bride and enjoy it! Have questions about your style? E-mail us at info@suitshop.com we would love to help!
Related Products