Undershirts For Men: A Groomsman Guide On How To Wear An Undershirt With A Suit Or Tuxedo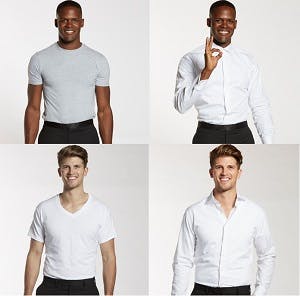 You've picked out your perfect wedding suit or tuxedo and you know what shirt, shoes, tie, and pocket square you are wearing. Maybe, you've even planned to get your hair styled and to get a straight razor shave for your big day. One of the last thoughts, and biggest debates can be, what will you be wearing underneath? To wear or not to wear an undershirt? Ideally a dress shirt would be worn without an undershirt, but there are many reasons to choose to wear one.
Undershirts help absorb sweat and prevent it from showing through to your shirt or even your jacket. This can be especially useful for summer weddings, beach weddings, and other destination weddings. They can also hide deodorant stains, tattoos, or other marks on the skin. If you are a guy with ample chest hair, an undershirt may be a bit more comfortable and will allow your shirt fabric to lay smoothly against your skin while keeping any hairs from poking through.
Regardless of your reasoning, the right undershirt will never be considered a fashion fuax pas. The key to wearing an undershirt is INVISIBILITY:
NEVER ever wear a tank top as an undershirt. Especially if you want to hide sweat. A tank top completely defeats this purpose as it offers less coverage and will show the most visibility under your dress shirt of any undershirt options.
Make sure the shirt you choose is snug to your body so the t-shirt sleeves don't compete with your dress sleeves. Meaning, extra loose fabric will be bulky and press against your dress shirt showing lines. Oftentimes, undershirts will be labeled as such, vs "t-shirt," indicating that it offers a snug, muscle fit and thinner fabric.
Length is important. Your undershirt must be long enough to fully tuck into your pants to ensure it stays snug to your body and doesn't ride up while you are out busting a move on the dance floor.
Find the right color for your skin tone. Yes, undershirts are not just white. For those with a lighter skin tone, white is the right choice, however, a heather gray color will be more invisible on darker skin tones.
If you are going for the casual open collar look, sans tie, a v neck undershirt is the way to go. A crew neck will show when your top two buttons are undone.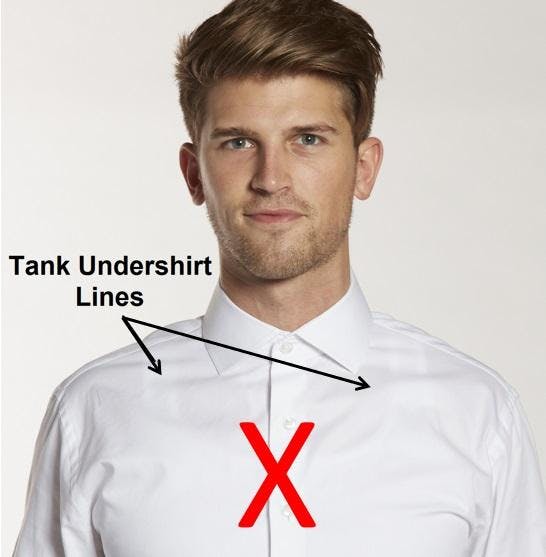 Contrary to most men's style guides, these are a few tips that should go unnoticed if done right. Wear the right undershirt and there won't be any photos to show for it. By the end of the night, when all the jackets are off and you're on the dance floor, nothing will detract attention from your amazing dance skills.
As always, the team at SuitShop is there for all of your style questions to help you and your guys look sharp on your big day. For more tips and style advice, check out our guides to Finding The Perfect Pant Length or Five Steps To a Great Fitting Suit.