Wedding Day Prep Tips for Grooms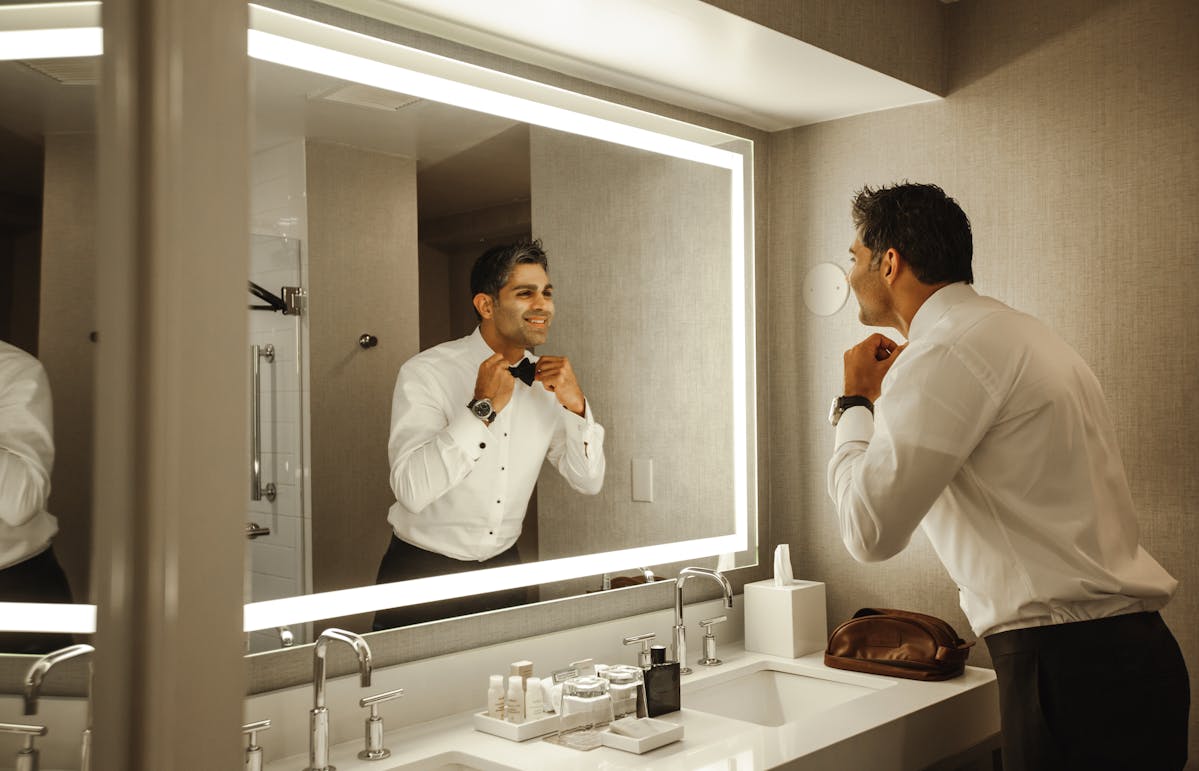 On your wedding day, looking good is only half the battle. You've got to feel good too. This is one of the biggest days of your life and all eyes are on you. Nervousness isn't a foreign feeling to any groom, but there are ways to keep it in check so you're spending more time enjoying your wedding day than sweating over it. Here are five wedding day tips for grooms to feel their best when the time comes to say "I do."
Get a few to-dos done early
Checking a few items off your to-do list in advance will save you time and stress on the day of your wedding. Pack your suitcase for the honeymoon and make sure your suit and other wedding-day essentials are ready to go. That includes groomsmen gifts too!
Fuel up and hydrate
Today is not the day to skimp out on breakfast. But we also don't recommend a huge bowl of sugary cereal either. Fuel up with plenty of protein — think eggs benedict, omelets, greek yogurt parfait with oats, nuts and fruit. This will help sustain you as you gear up for the celebration ahead. Whether you decide to drink coffee, tea or a good old-fashioned glass of orange juice with your meal will come down to how you feel in the morning. If you find yourself particularly anxious or nervous, go easy on caffeine. That'll only make it worse. If it feels like any other day, go for the joe. Take some time to eat in solitude if that feels right or plan ahead to eat with the guys for extra support and good company.
Center yourself
Sometimes the best way to calm your nerves on your wedding day is to move a little bit. Take a walk to burn some nervous energy, but don't do any exercise that would get you too hungry or sweaty. You don't want to be crunched for time because you need to fit in another shower or meal. Walk solo or invite your best man or groomsmen to come along. One of the best ways to relieve stress, too, is to talk things through. So use your time with the guys as an option to share your perspective and welcome theirs. If stillness sounds better, consider finding a private, quiet space to do a quick guided meditation or pray for a few moments. This gives you time to process your thoughts, refocus and get in the right headspace for your wedding day.
Get your look together — early
Whether you're nervous or steady on your wedding day, you won't know until you get there. So we recommend getting a head start on your day in general so you can take more time to get ready physically and mentally if need be. Shave, prep your hair and suit up early — with all accessories included — in case you need to make any last-minute adjustments to your look. Take a look at these grooming dos and don'ts to make sure your hair looks its best.

Keep things in perspective
And...just breathe. It's your big day! It's OK to be nervous, but no matter what happens, people are there to celebrate you. And at the end of the day, you're marrying the person you love. Trust your wedding party to carry out their roles and duties, embrace the imperfections (they make for great stories and memories down the line) and allow yourself to enjoy every minute of it — jitters, joy and all.
Do you have any other techniques or tips to help other grooms feel their best on their wedding day? Share them with us by e-mailing info@suitshop.com!