Destination Wedding: Groom Style
A few weeks ago, we were dreaming about white winter wonderland weddings, but now we'd rather be on a white sand beach or an enchanted wooded getaway, celebrating love in the sun and fresh air. The classic idea of the destination wedding has grown to include new meanings in recent years, as we all find ways to stay safe but continue to exercise our adventurous, romantic sides. More and more domestic destinations have been trending lately alongside always-beloved beachfronts, and it's opened the door to embracing the beauty of some more inland treasures like mountains, plains, and lake- or river-front venues. Destination wedding season has arrived, and if you're not off to some far-away escape, you will soon be able to live vicariously through all the photos your friends will be sharing.
The choice to tie the knot someplace special and a little outside of the day-to-day locales has been on the rise. The recent advent of the micro-wedding and other increasingly intimate ceremonies and celebrations translate perfectly to having a destination wedding, too. For those of you planning your own far-off wedding, we have a few style ideas for your big day looks.
Regardless of your destination, there's one thing that signals a getaway more than any other: color. Much like the trend forecast for style through the coming years at large, color is looking like it will be getting BIG for destination weddings. While the main color palette for these events is traditionally delicate, muted colors, adding bold, bright pops alongside the muted shades is the perfect way to inject some fun into your event and add a modern update. The rest, though, depends a bit more on your specific destination.
For the Beach
Light Suit Fabric and Color – We love lighter colors in brighter places. Trending now are light grays, brilliant blues, and light tan.
All fabrics are not created equal when it comes to extreme temperatures and that certainly applies to suiting for warm weddings. Linen is a great choice though not terribly travel-friendly, as it wrinkles very easily. Cotton is cooler than a traditional wool, but a bit stiffer. In the cotton family is Chambray and in the right setting, this lightweight denim look can be fun. Surprisingly, a well-balanced blend of rayon and polyester can be your best option as it is durable, soft and resilient. We know what you are thinking and yes, you heard us, polyester. It has been scorned for ages, and while we'd never suggest wearing a 100% polyester suit, when blended with other fabric it is crease-resistant and extremely strong/durable, while retaining much of the comfort and softness of cotton. Rayon is a cellulosic fiber that adds essential breathability to the fabric. By blending these two qualities, you get a powerhouse fabric at a fraction of the price.
Exposed Ankles – With a slightly higher hem and more tapered pant leg, showing a little ankle can be your best accessory at a destination wedding. Cropped or cuffed, aim for the pant leg to end two inches above the shoe. Any higher and you'll be wearing a capri pant which is never okay. The trick to this look is to find the right no show socks that are truly invisible. Of course, exposing a little leg is not appropriate for black tie events. In a more casual setting, having your wedding party people wear lighter, brighter summer suits is perfect.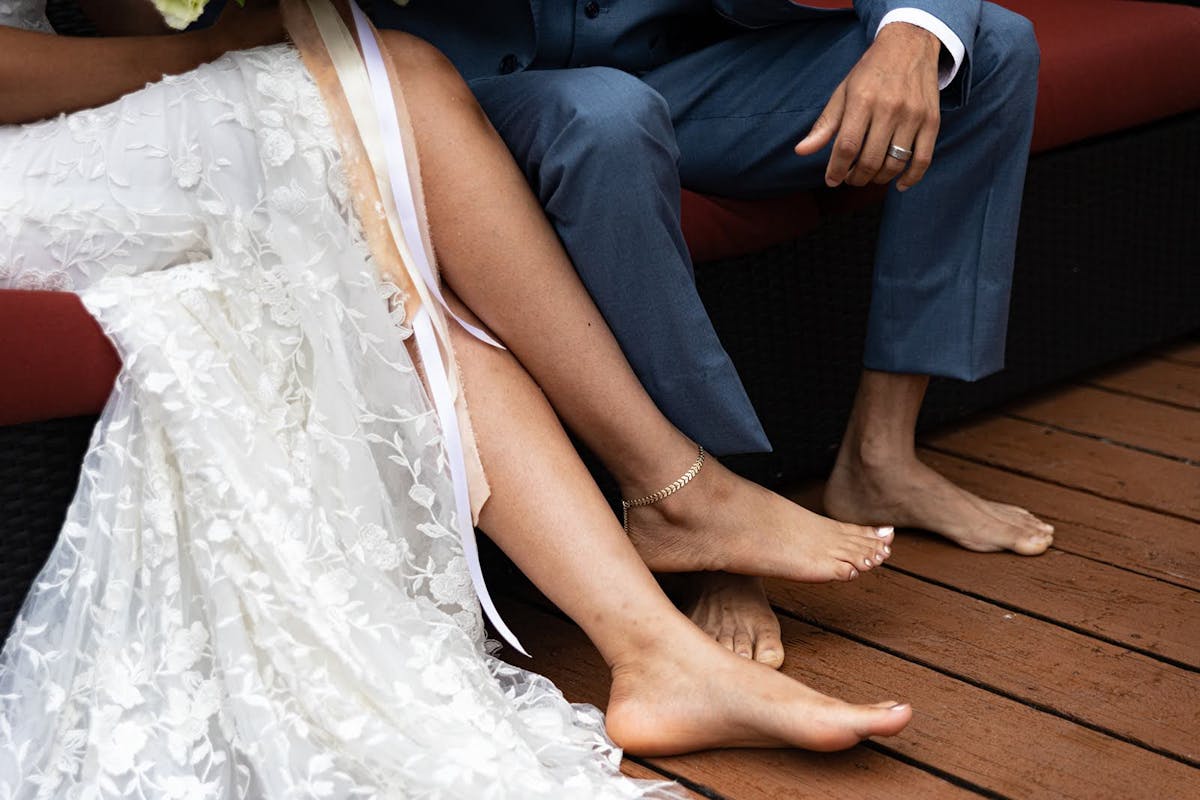 For the Inland Gems
Deep Suit Colors and Comfortable Fabrics – Destinations like the mountains, forest, grassy valleys, and beyond deserve to have the mood set with some deep, dark, earthy shades and comfortable fabrics.
You picked a location you love, so tune into the feeling and colors where you are. Compliment your venue with jewel tones like burgundy, navy, or hunter green. You can also keep the getaway vibe alive while staying true to your chosen area by wearing a light color with some added personality and moodiness. A light, textured gray, for example, is a great choice for these settings.
100% wool seems to be the standard fabric choice these days, and its added warmth can be a great choice for these cooler outdoor locations. Similar to beachfront formalwear, though, a polyester-rayon blend is often the way to go here, too. It's packability and breathability combined with its movement-friendly construction makes it perfect for adventures in nature.
Outdoorsy Extras – Make your destination wedding look complete with some accessories suited to your style and your terrain.
Footwear is one of the most significant finishing touches and choosing a more wild space opens the opportunity to try something more adventurous. Dress shoes definitely still work here, but you could also choose to go with Chelsea boots or refined, white sneakers, too.
To add that final cool factor that fits in so well with a mountain or woodsy retreat, pop on some sunglasses or patterned socks. The socks will keep you warm and add some fun, and the shades layer on style and help with bright sunlight.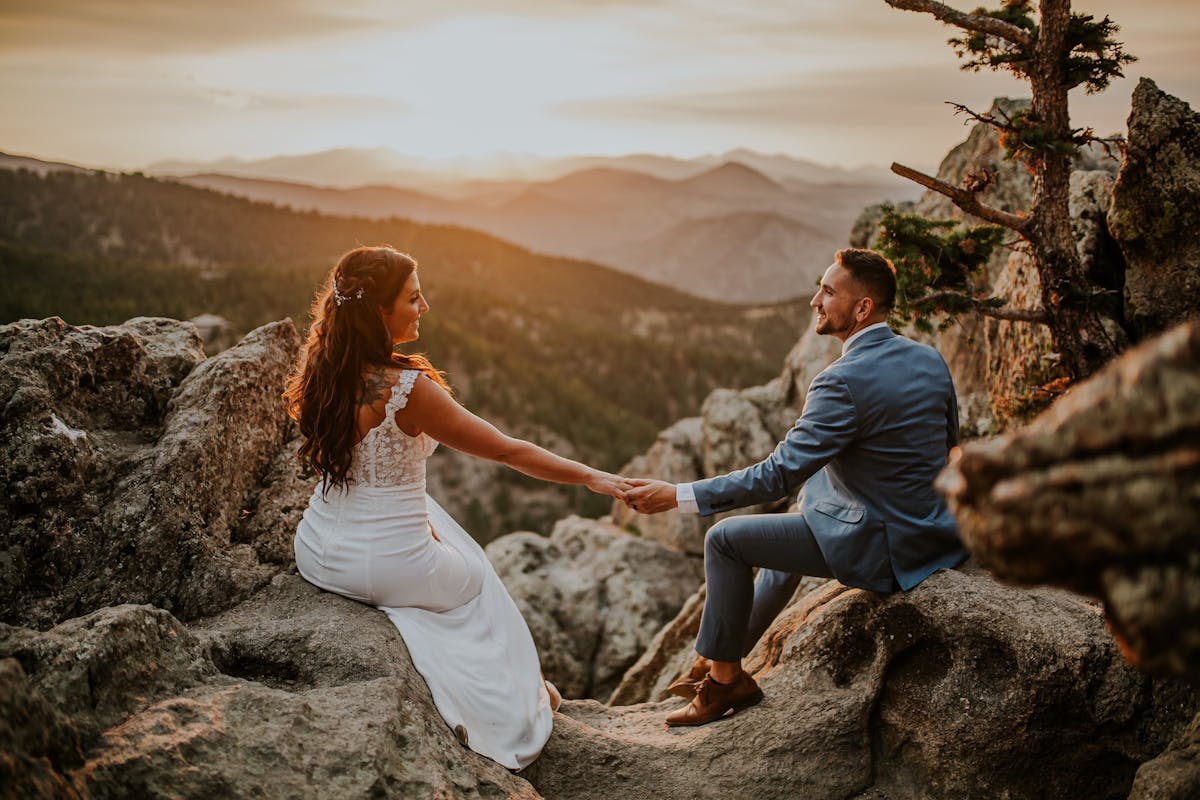 Extra Touches
Vests – If you really want to keep your look cool, forgo the jacket and opt for a vest instead. Not only do vests add a bit of color and vary up the style, but they are also incredibly flattering. In most instances, however, we don't advise going for a crazy hued vest. It's best to go with the same fabric as your pants in the same or a complementary shade. Whether you're breathing in salt air or mountain air at your whisked-away wedding, swapping in the vest lends a level of added coolness and adventuresome spirit.
Go Tieless – Do you ever think ties on the beach look funny? We do. Especially if you are going to go sockless and have your party members showing a little ankle, consider nixing the tie. Country and woodsy vibes, too, are all about staying fresh, chill, and laid-back. Don't be afraid to go all in and fully embrace a more relaxed, fun style. Isn't that what a destination wedding is supposed to be anyway?
The key to going tieless is finding a great shirt with a stiffer collar that will hold shape. Also, make sure you keep your undershirt hidden, chest hair trimmed, and don't go more than two buttons deep. Your group will thank you for making their looks more breathable.
Now that you've got your style down, it's time to pack your bags! If you don't have an invite to a tropical wedding or mountaintop nuptials, it's never too late to make friends with engaged couples planning their own!