How to Style Suspenders For Men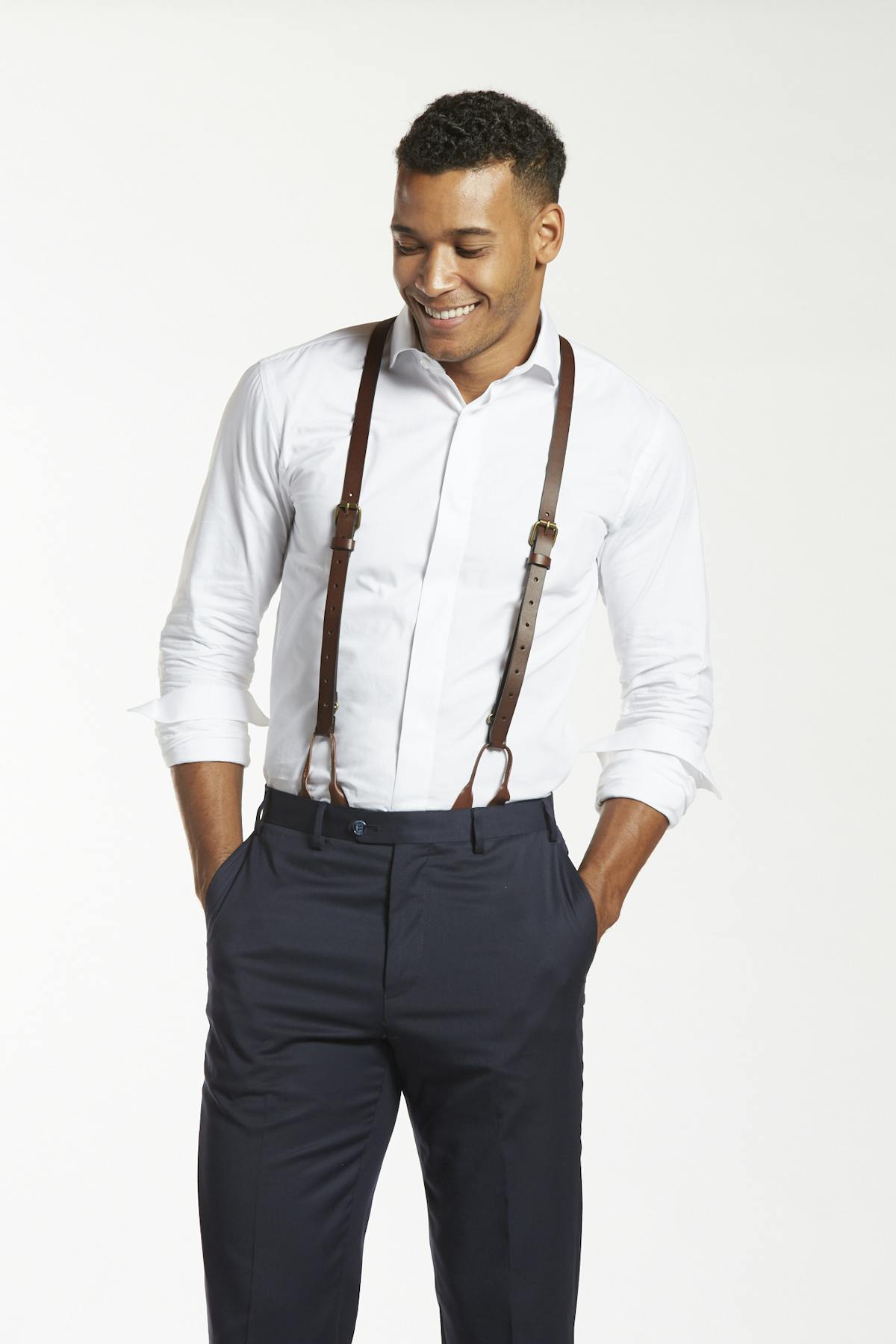 We've always been fans of thick black suspenders paired with tuxedos for black tie events and thin leather suspenders for casual and rustic affairs. Now, we're excited to add colored suspenders in white, pink, burgundy, and hunter green to our collection. Suspenders are a great accessory to step up your look as they are most likely not something you wear to work or on a regular basis, you reserve them for a special occasion. A great perk to choosing suspenders for your wedding day, similar to why vests are a great addition to your look, is that once you remove your jacket, you have something on to distinguish yourself from the rest of your guests. Here are a few tips to make sure your suspenders pair well with the rest of your outfit: 
1. Make sure the leather details on your suspenders complement your shoes. While we do think you can pair a black suit with brown shoes, when it comes to leathers we prefer you stay in the same family. If you're thinking of purchasing our light grey suspenders or any from the grosgrain collection, these suspenders come with black leather details and look best with black shoes. The classic navy suspenders we offer have light tan leather details and look best with lighter shoes or tan shoes that pull a little orange in color. The classic leather suspenders are a deeper brown and look great with cognac dress shoes. And remember, if you choose to wear suspenders you won't be wearing a belt. 
2. Make sure the color of your suspenders complements your other accessories. There are a lot of decisions to make when it comes to color. If you're planning a wedding, it is likely that you'll choose the color of your bridesmaids dresses first and then decide which suit colors will look best next to the dresses. This is a great idea as the dresses often bring a lot of color to your wedding photos and you don't want any colors competing with one another. Once you've nailed down the suit colors, it's best to choose your ties and pocket squares next. These two items don't have to be the same color, but should blend well side by side. If you love the look of a pocket square but you want to keep things simple, a white pocket square is the perfect addition to any suit jacket. (And, don't forget to check out our article for tips on how to fold a pocket square as well). For a black tie event, stick with white or black suspenders. For other events consider a monochromatic look, for example a blue suit with blue suspenders and a blue tie. Or, match the accessories to stand out from your suit like our grosgrain burgundy slim tie and grosgrain burgundy suspenders. If you've found a fun print for your tie or pocket square, make sure the color of your suspenders is found somewhere in the pattern so the two can play off of one another. 
3. Choose between a slim necktie, bow tie, or no tie at all. While you can certainly wear a slim tie, our preference is the look of a bow tie and suspenders. The slim tie creates more lines down the front of your body, while a bow tie will make the look pop. It's also perfectly fine to wear suspenders and no tie at all, especially for more casual and rustic events. If you're thinking of using the accessories in your wedding as a way to stand out as the groom, consider wearing a bow tie and suspenders while your groomsmen wear slim ties and belts. Or, you can opt to be the only one in a jacket while your groomsmen sport suspenders on the big day. 
4. Choose buttons over clips for a formal event. Clips are fine on a daily basis, and can make adding suspenders to your look quick and easy. But, for a formal event it is best to button your suspenders into your pants. This looks more sophisticated and there is a better chance that your suspenders will stay in place and you won't have to be adjusting them on the dance floor. While our tuxedo pants are the only ones that come with buttons already in place, adding the buttons is a quick task that your tailor or dry cleaner can complete when you take your pants in to be hemmed. (For more tips on pant hemming, check out our guide here). 
5. Nail your boutonniere placement. If your look doesn't include a jacket, we recommend skipping the boutonniere. But, if you'd like to wear a boutonniere with your suspenders, make sure the boutonniere is attached to your suspenders, not your white dress shirt. For location, place the boutonniere about half the distance between the base of your bow tie (or shirt collar) with the base of the flower even to the second button from the top of the shirt. Also, make sure that your boutonniere is put on straight and not at an angle, like you would on a jacket, so it lines up perfectly with your suspenders strap. 
However you choose to style your spenders, we are sure you'll look great and can't wait to see photos! Be sure to tag us @suitshopofficial. And, for more tips, check out our guide on how to wear suspenders. As always, if any questions come up, reach out to us at info@suitshop.com!